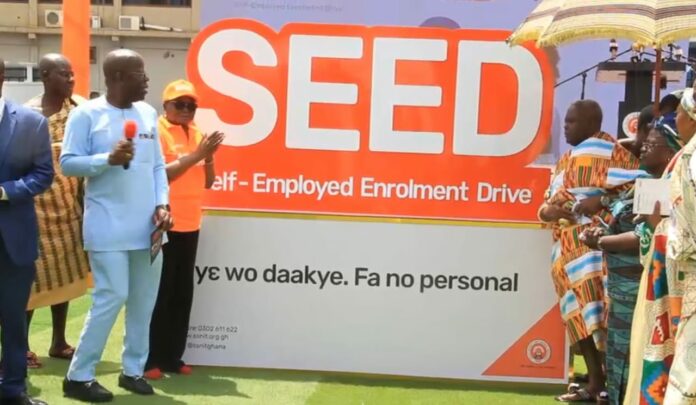 The Social Security and National Insurance Trust (SSNIT) has rolled out an initiative to provide pensions and related benefits to self-employed workers in the informal sector.
The initiative dubbed Self-Employed Enrolment Drive (SEED) focuses on fulfilling the mandate placed on the Trust (SSNIT) to extend pension coverage to all workers, especially the self-employed.
In pursuit of this agenda, the Trust in 2022 carried out extensive engagements with various stakeholders across the country to solicit their input and support on how the self-employed can also have access to pension during retirement.
Speaking during the launch of SEED in Kumasi Thursday, May 11, 2023, the Director-General of SSNIT, Dr. John Ofori-Tenkorang noted that Management of the Trust gathered valuable lessons from those stakeholder engagements, and the lessons learnt have helped to shape the rollout.
He was convinced self-employed workers would happily join the scheme if they became aware of the value the SSNIT Scheme offers them.
"If we had communicated the unparalleled value and benefits the SSNIT Scheme offers, not only would we see an improvement in self-compliance in the formal sector, but we would definitely have had more than just two per cent of our active contributor base being self–employed.
"SEED will help redefine social security in this country and give hope to the self–employed; the hope that they can also retire in dignity and comfort. We are going to rely heavily on the strengths of the Tier One product, and once we have convinced the self–employed to look at SSNIT again, we will get them to sign up.
"They will sign up because what we are offering is an opportunity for them to insure their incomes so it can be replaced when they are old or become invalid and can not work again. The same scheme will also pay a benefit to their survivors if they pass on," Dr. Ofori-Tenkorang stated.
READ ALSO: Kumasi: Car Dealers Association threaten demo against gov't for collapsing their business
READ ALSO: SSNIT introduces E- payment system for contributors
Currently, about 1.9 million of the estimated 10 million workers in the country are covered under the SSNIT scheme. Out of the 1.9 million active SSNIT contributor base, just 32,000, representing about 2% are self-employed persons.
What this implies is that most self-employed workers would have to rely on the state or family and friends for financial support when they are old and retired.
"This unbalanced coverage of workers is a sad commentary of our social protection system, and we have a responsibility to change this narrative. The SSNIT Scheme is not for formal sector employees only, it is for all workers in Ghana. Indeed, our highest earning pensioner who receives GHS 169,752.89 as monthly pension was a businessman," the Director-General of SSNIT asserted.
He urged self-employed workers who have not registered under the Scheme to visit the nearest SSNIT office, contribute regularly on their right earnings using ssnitpay – an electronic payment platform, via mobile money and debit cards.
On her part, the Board Chairman of SSNIT, Elizabeth Ohene, expressed mixed feeling, pointing out that the nation has not paid attention to the provision of pension for the self-employed.
Report indicates that of the two million people in the country who are above 60 years, only 11% receive regular pensions. What this means is that a lot of people in active service are burdened with taking care of their aged parents and relatives. This trend is expected to continue if immediate steps are not taken to address it.
"The fact that we are now doing this after more than 50 years of existence of SSNIT is simply not right, but I am very excited and encouraged that we are finally doing so. To think that several millions of workers in the country have no assurance of monthly pensions during their old age is quite scary," she noted.
The leadership of the various self-employed groups that were present at the launch of SEED encouraged their members to prioritise SSNIT Pension and sign onto the Scheme to enjoy the benefits and income security.
The Deputy Minister of Employment and Labour Relations, Bright Wereko-Brobbey expressed gratitude of the Ministry for the giant steps SSNIT is taking to provide pension cover for the self-employed.
Whilst assuring the Trust of the support of his Ministry to the SEED, he urged the Management of SSNIT to encourage members of SSNIT to periodically update record of the beneficiaries.
READ ALSO: Ghana card will save SSNIT $126 million – SSNIT Boss
"Most people after registration forget to update their records. So we have instances where people register at an early stage of their lives and after their death, it comes out that none of their children nor spouse was nominated. I will urge the Management of SSNIT to remind contributors to update their records," she noted.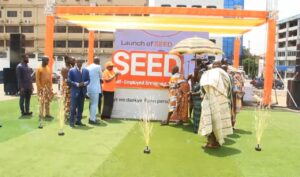 By Ibrahim Abubakar|AkomaFM|Onuaonline.com