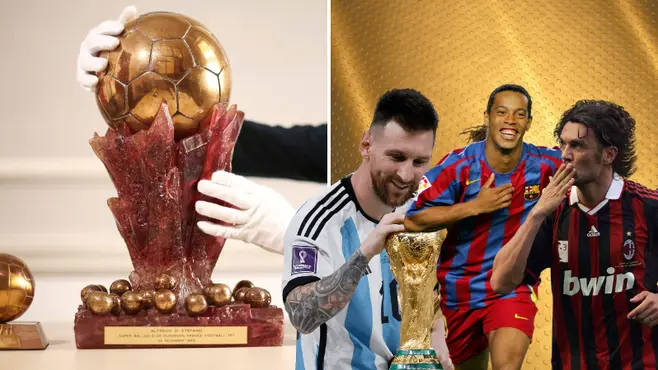 A fan has created 'Super Ballon d'Or' rankings for the last 32 years and of course there was controversy with regards to the list.
The rare award has only been given out to one player in history, having been received by the legendary Alfredo Di Stefano back in 1989.
To mark the 30th anniversary of the France Football magazine, the outlet announced the Super Ballon d'Or, which only European players were eligible to win.
Real icon Di Stefano qualified through his Spanish citizenship and pipped Johan Cruyff and Michel Platini to the gong.
A good chunk of fans think the special prize should be brought back to celebrate the achievements of the best player in the current era.
READ ALSO: Messi's Qatar hotel room to be turned into a museum after Argentina World Cup triumph
And over on Reddit, user @mkx696969x has calculated how a list might look.
It's been based purely off Ballon d'Or performance since 1990 and given Lionel Messi has won the award a record seven times, it's no surprise to see him at the very top.
But the overall rankings do conjure up a number of surprises for fans to debate over.
Here is the list in full:
1. Lionel Messi
2. Cristiano Ronaldo
3. Ronaldo De Nazario Lima
4. Zinedine Zidane
5. Andriy Shevchenko
6. Roberto Baggio & Lothar Matthäus
7. Hristo Stoichkov
8. Robert Lewandowski
9. Ronaldinho
10. Rivaldo
11. Kaka
12. Luis Figo & Luka Modric
13. Thierry Henry
14. Andres Iniesta & Matthias Sammer
15. Karim Benzema & Michael Owen
16. Pavel Nedved
17. Marco van Basten, Jean-Pierre Papin , George Weah , Fabio Cannavaro & Xavi Hernandez
18. Dennis Bergkamp
19. Neymar
20. Raul
21. Paolo Maldini.
22. Jurgen Klinsmann, David Beckham & Gianluigi Buffon.
23. Roberto Carlos
24. Sadio Mane
25. Davor Suker & Dejan Savićevic
26. Darko Pančev, Salvatore Schillaci, Zlatan Ibrahimovic, Deco, Predrag Mijatović, Oliver Kahn, Frank Lampard , Antoine Griezmann & Virgil van Dijk
27. Didier Drogba & Kylian Mbappe
28. Steven Gerrard, Kevin De Bruyne & Mo Salah
29. Iker Casillas, Andrea Pirlo & Samuel Eto'o
30. Luis Suarez, Jari Litmanen , Eric Cantona, Alessandro Del Piero & Gabriel Batistuta.
The rankings have been decided going off where players have placed in the Ballon d'Or votes over the years but typically there was plenty of reaction.
One fan replied: "R9 being 3rd shows just how much better he would have been than everyone else without the injuries."
Another commented: "From a quick glimpse, Suarez at #30 is probably the most controversial for me."
A third opined: "Shevchenko was a monster one of the greatest 9's ever seen. Ronaldinho top 10 despite everyone saying his prime lasted 2 years."
A fourth commented: "Mane has no business being on this list, Beckham next to Buffon what a joke."
For years the Ballon d'Or has been viewed as the most prestigious individual prize a footballer can win but what if you add the word 'Super' in front of it?
The first ever Ballon d'Or award was handed back in 1956 and a plethora of the world's greatest ever players have got their hands on it.
But only one has the honour if being a 'Super Ballon d'Or' winner and that is Real Madrid legend Alfredo Di Stefano.
Di Stefano scored 308 goals for Real and played an integral role in five consecutive European Cup wins between 1956 and 1960.
He won the Ballon d'Or twice, in 1957 and 1959, but three years on from his second triumph award winners France Football commemorated his achievements again in a unique way.
To mark the 30th anniversary of the France Football magazine, they handed out the Super Ballon d'Or – with only European players in contention for the award.
Di Stefano was born in Argentina and played there until 1949. He later went on to represent Colombia and Spain, earning citizenship that qualified him for this trophy.
Legendary Johan Cruyff and Michel Platini were among the nominees but the award went to Di Stefano, 30 years after his second Ballon d'Or win.
The trophy looks a lot similar to the Ballon d'Or but has a lot of gold mini footballs bearing resemblance to Ferrero Rocher chocolates at the base.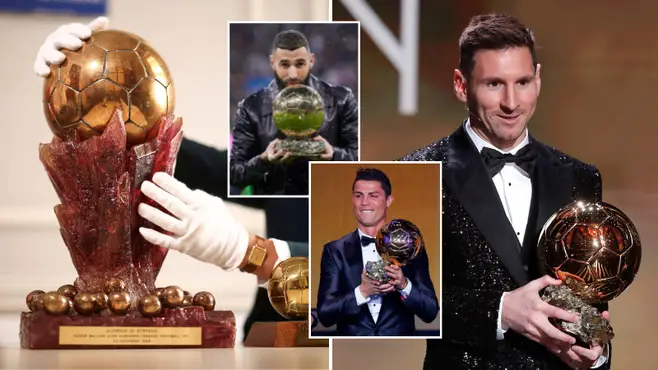 The one-of-a-kind award was stationed at the Real Madrid Museum at the Santiago Bernabeu for years but then went to auction in London in September 2021 as part of a 'Property from the estate of Alfredo Di Stefano' event alongside other iconic memorabilia from his career.
As per Julien's auctions, the trophy sold for a whopping £187,500.
In 1995, a 'Golden Ballon d'Or' recognising non-European stars was handed out to Argentina legend Diego Maradona.
But after he finally got his hands on the World Cup, plenty of fans think seven-time Ballon d'Or winner Lionel Messi should have his own special version.
One wrote: "Super Ballón d'Or, an award given to the best player of the past 3 decades, only won by Di Stéfano. Give it to Messi and let it be the cherry on top for his unrealistic story."
A second said: "Before this very moment i had no idea this existed but now i know that it does, give it to Leo."
Another added: "What in the hidden treasures. He deserves one."
A fourth opined: "He will get it easily. no one else deserves it more in the last 30 years."
Source: SPORTbible