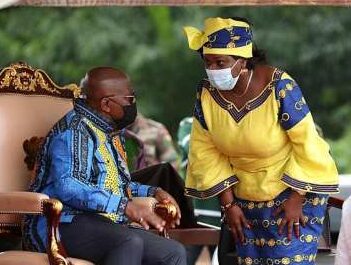 Sweeping the Cecilia Abena Dapaah money hoarding scandal under the carpet will be unscrupulous according to the Center for Ethical Governance and Administration (CEGA).
The group in a Sunday, July 23, 2023, release urged President Akufo-Addo not to leave any stone revolving the matter unturned, saying Ghanaians deserve to know the source of the sums being kept at the former minister's bedroom.
"Under situations like this, it will be unethical for government to sweep this strange occurrence under the carpet more so when the former minister has come out with a statement to flatly deny aspects of the written statement made to the police, which formed the bases for the prosecution of the two house girls and three accomplices," the statement said.
READ ALSO: Trump sues CNN for defamation; demands $475m in punitive damages
Before the probe, CEGA further "respectfully requests President Akufo-Addo to cause the immediate freeze of assets of the former Minister for Sanitation and Water Resources Cecilia Abena Dapaah and for the Office of the Special Prosecutor (OSP) to as a matter of urgency initiate investigations to unravel the source of the said monies stashed in her bedroom as reported in the media."
The Center says the amount of monies spelled in the charge sheet from an Accra Circuit Court where the former Sanitation and Water Resources Minister and the husband reported to have been stolen from their bedroom by two house helps in such distressing times requires further action.
Monies comprising a 1 million US Dollars, 300,000 Euros and countless millions of Ghana Cedis in addition to other valuable personal effects were reported to have been pilfered by the two young ladies with three other accomplices.
READ ALSO: Youth and Sports Ministry blows ₵57million extra of 2022 budget allocation
Even though Madam Abena Dapaah has said the facts as indicated on the charge sheet are incongruous with what was reported to the police, CEGA says the "mismanagement of the economy by the Akufo-Addo government" where "Ghana is reeling over GH₵600 billion debts and regarded as a high risk debtor nation" requires the OSP's intervention to bring matters to reasonability.
Abena Dapaah tendered in her resignation 24 hours after details of the items stolen from her Abelemkpe residence emerged.
President Akufo-Addo on accepting the resignation said he was confident his former Sanitation and Water Resources minister would be exonerated after state institutions carry out their investigations.
READ ALSO: You failed your own test; ASEPA to take matter involving judges in vehicle auctioning scandal up