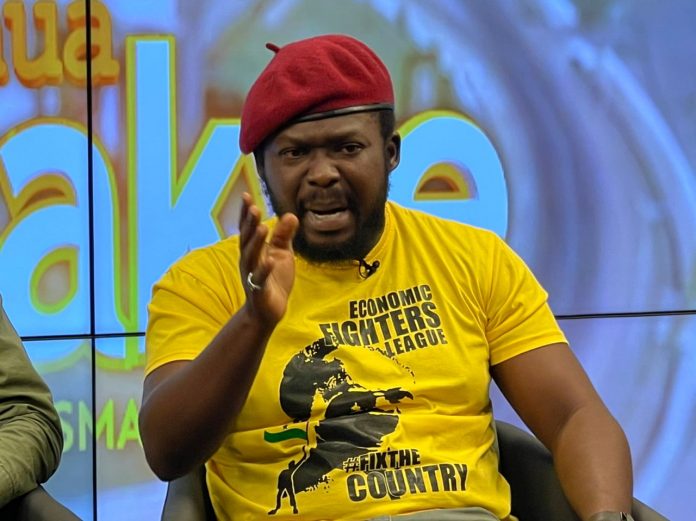 Nii Aryee Opare, a Spokesperson for pressure group, Economic Fighters League asserts the mere fact that the IMF is engaging Ghana on a bailout is problematic.
According to the youth activist, the haphazard dispensing of state funds is not something the International Monetary Fund (IMF) is oblivious of, the reason negotiations shouldn't have even commenced.
Like the father who slaughters a cow for his daughter's birthday whilst her school fees has not been paid, Nii Aryee says President Akufo-Addo cannot be renting jets and build cathedrals when the economic pillars of the country were so weak to warrant an IMF intervention.
Speaking with Captain Smart on Onua TV/FM's morning show, 'Maakye' Tuesday, July 12, 2022, Mr. Opare noted the sum wasted on Townhall meetings before passing the Electronic Transaction levy, which government said was the panacea to all of Ghana's economic woes is enough for the Fund not to have considered the bid.
"I have a problem with the IMF for the fact that they even make time to entertain Ghanaian delegation. Because a country that says they lack money invest over $200m for a cathedral.
"We spent monies on Town Hall meetings on e-levy to end all our problems and out of the five meetings, each wasn't less than ₵80k," he ranted.
He stated further that the performance of this government is so abysmal and needs to be thrown out under the command of the citizenry just as it happened in Sri Lanka.
Meanwhile, Nii Aryee recommended a "presentable alternative who can work" since both the NPP and NDC administrations have failed Ghana woefully.
Nii is however asking everyone to get on board in getting the president to resign just as it happened in Sri Lanka.
"When we leave the resignation of the president to them, they won't. The people in Sri Lanka went to the presidency themselves. We need a presentable alternative who can work," he stated.
In getting Ghana back on track as a nation, the young man has suggested Ghana goes back to the basics by investing in agriculture and industrialisation.
Self sufficiency, he emphasised must be the focus to ensure enough raw materials are produced to feed the industries.
By Felix Anim-Appau|Onuaonline.com|Ghana