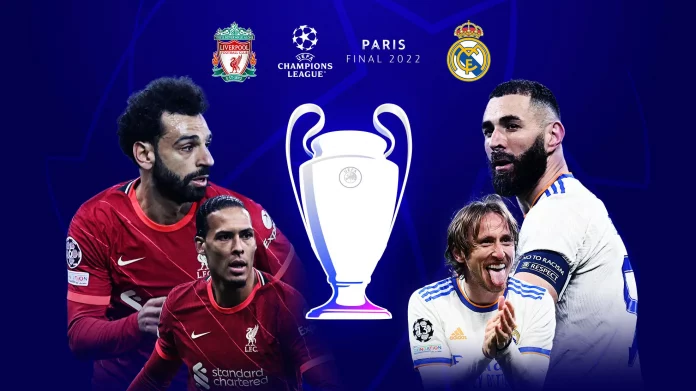 32 top European clubs gave fans around the world a treat and now, the coveted trophy awaits the two remaining teams in Paris on Saturday.
Real Madrid and Liverpool overcame all hurdles, showing unshakable mentality, delightful football, and admirable quality from start to finish.
Liverpool will hope to avenge the devastating 3-1 defeat to Los Blancos in 2018 whilst Real Madrid will aim to avoid the pain they suffered in 1981 to the Reds.
What role do the numbers play in this fixture?
The basic figures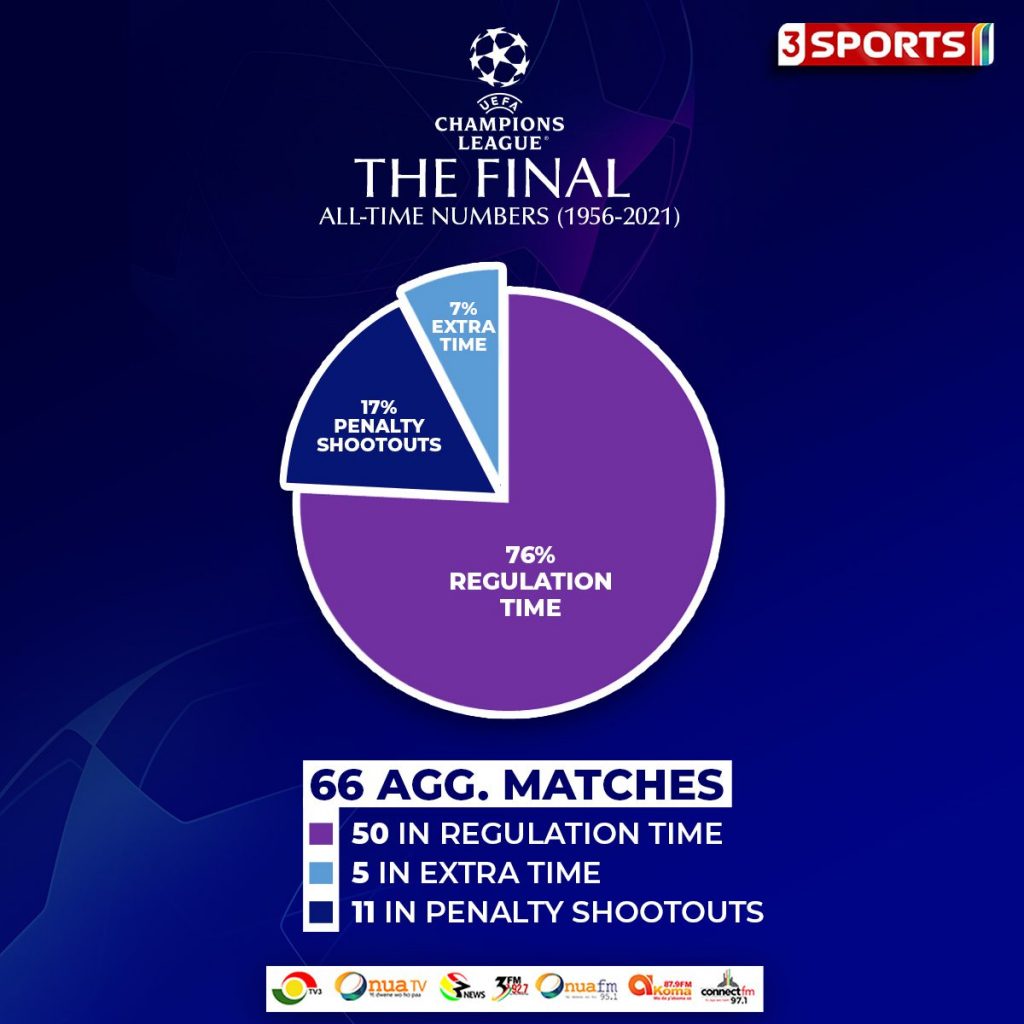 67 final matches have taken place since the European Cup, now named the UEFA Champions League was birthed in 1955.
All matches were played in a single leg, except the battle between Atletico Madrid and Bayern Munich in 1974 where there was a replay. Bayern won 5-1 on aggregate.
This anomaly has been considered a single leg in this piece. Hence, 66 aggregated matches were played during the period with 180 goals recorded.
50 games were settled within 90 minutes, highlighting the fact that most Champions League finals are concluded early.
16 of those games went into extra time, with 11 of them going all the way to penalties. Five of those games were settled in extra time.
Real Madrid and Liverpool have taken part in a combined 25 finals so far.
Score first to boost chances
Out of the 66 aggregated Champions League finals played, 45 have been won by clubs that scored the first goal of the game, translating to 68.18%.
The final is mostly played in a neutral venue and the first goal is crucial in that setting. Teams have more often than not benefited from breaking the deadlock.
Eight of the last 10 winners in the competition ended up finding the net first in the final with just two comebacks required.
17 matches were lost by teams who scored the first goal, making up 25.76% of the total finals played.
Only four finals (6.06%) ended up without goals in regulation and extra time. With the firepower possessed by Liverpool and Real Madrid, a goalless draw is unexpected.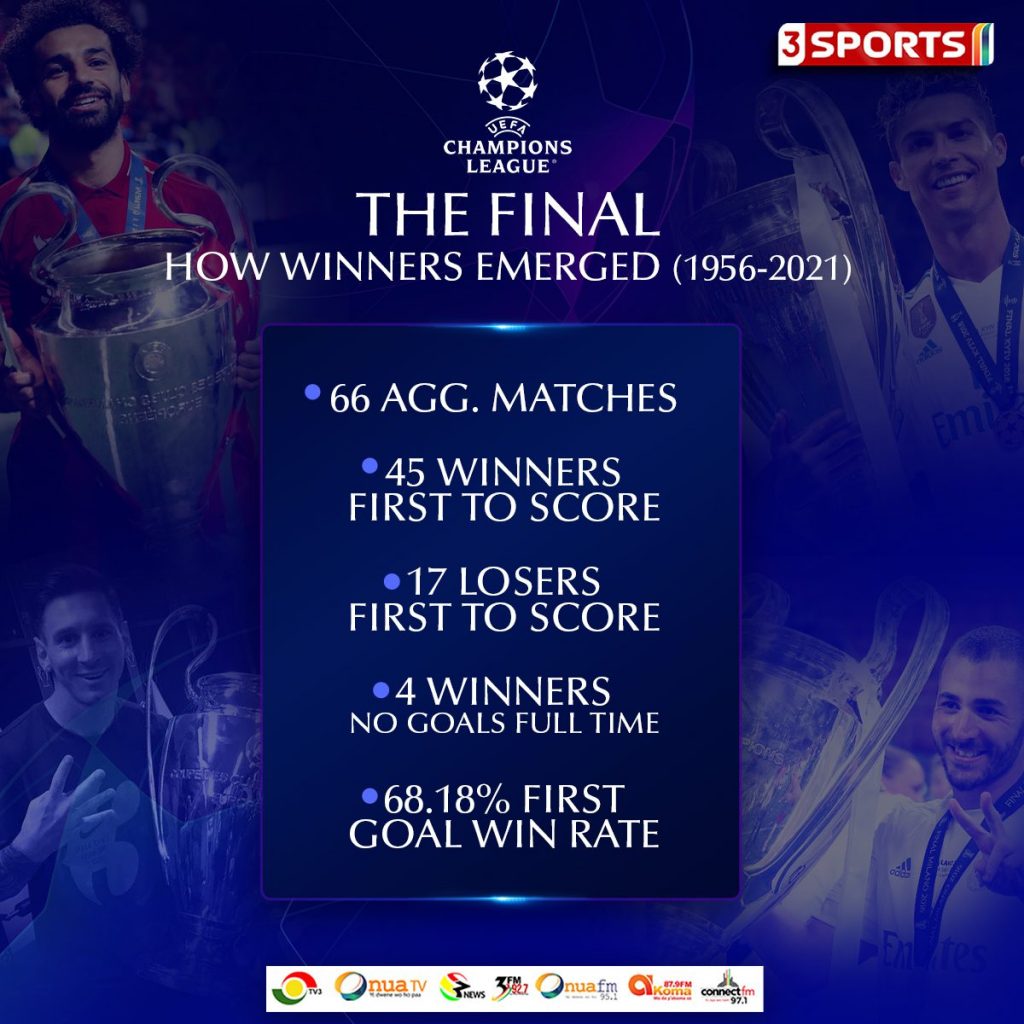 Real Madrid's commendable record
There is none more prestigious in this competition than Real Madrid. Los Blancos have appeared in the most European finals (16) thus far and won 13 of them, no other team has won more.
They have the knack of finding the net often too, scoring 42 goals in those games with an average of 2.63 goals per game.
It is interesting to note that in eight of the 13 wins, Real Madrid found the net first whilst in the other five, they had to come back from behind.
Score first against them and risk a spirited comeback or let them break the deadlock and effectively call it an evening. Just pick your poison.
Real Madrid's journey in the Champions League this season has been storied with comebacks. With their backs against the wall against PSG in the Round of 16, a hat-trick from Karim Benzema within 17 minutes left the Parisians in tatters.
Against Chelsea in the second leg of the quarter-final, goals from Rodrygo and Benzema after going 3-0 down delighted the Madrid faithful.
A similar story came up in the semis against Manchester City where Rodrygo hit a brace to force extra time, leaving Karim Benzema to end the tie from 12 yards.
Liverpool creates magic too
The Reds (9) have not featured in as many Champions League finals as Real Madrid (16). However, Jurgen Klopp's side have a penchant for making those finals memorable.
They have been victors in six of those nine finals with a win percentage of 66.6%, a relatively healthy record.
Think Istanbul in 2005. AC Milan, ironically led by current Real Madrid boss Carlo Ancelotti, tore Liverpool apart in the first 45 minutes, scoring three well-worked goals.
In the second half, the Premier League side played like champions, leveling the scoreline at 3-3 and eventually winning on penalties.
Their win against Los Blancos in 1981 cannot be forgotten too. That game was played in Paris, the same venue as this year's edition.
Liverpool will feel they can replicate the past whilst Real Madrid will undoubtedly be looking to avoid the repeat of the painful 1-0 loss.
Who will win the final?
The game will be a close one as both teams possess huge quality in all positions. There are, of course, three Ballon d'Or candidates who are expected to feature.
Karim Benzema will look to lead the Spanish giants to glory after a semi-final exit in the previous campaign.
Sadio Mane already has an Africa Cup of Nations trophy in the bag and a Champions League trophy will add to an already remarkable year.
Mohamed Salah looks like an outside candidate for the award but has made his case on the individual front, winning the Premier League golden boot and playmaker awards.
Perhaps, the first team to score would lift the trophy, just as Real Madrid did against Liverpool in 2018 or just as the Reds did against their upcoming opponents in 1981.
By: Bill Eshun|3Sports|Ghana