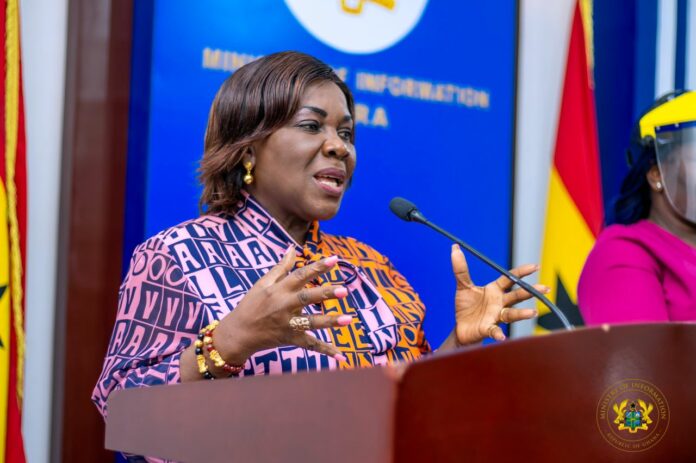 A Ghanaian national resident in the United States has petitioned several US state institutions to do background checks on former Sanitation and Water Resources minister, Cecilia Abena Dapaah, over her missing US $1million.
The lady says she wants Madam Dapaah to be investigated by the agencies to ascertain whether she owns properties in the United States for her to account for them and pay the adequate taxes required.
According to Grace Loki, the lady who filed the petition, she took the initiative due to her distrust in Ghana's investigative institutions. She says she is certain President Akufo-Addo, will, just like he cleared other suspects of corruption charges, do same to Cecilia Dapaah.
She explains she is certain that there can not be thorough investigations into the matter, the reason she has petitioned institutions like the FBI, Federal Reserve, Treasury Department among other US state institutions to conduct a check on the former minister.
READ ALSO: 2 house helps in court for allegedly stealing millions of cash from Cecilia Dapaah's home at Abelemkpe
"Not just the FBI alone: I've written to the FBI, the Federal Reserve, Treasury Department, the DEA and just about every US government institution interested in issues of money laundering and the main reason is that I don't have any confidence that Nana Addo will use ways and means to ensure the woman gets away with the issue," she stated emphasizing that, "whatever it takes, Nana Addo will make sure the woman walks away, we have seen some before even under the NDC."
"I will make sure that if she has any property in the US, she is investigated by IRS and made to pay taxes. We all pay taxes here in America and even when we send money back to Ghana to invest, we are required by law to file taxes to the American government.
"We are supposed to file taxes after declaring profits, I don't know if Cecilia Dapaah has paid the required taxes on the dollars that was stolen by the workers. But everyone is supposed to pay taxes on their dollars even if she won a lottery," she added in her interview on OBGhPage in a Facebook live.
READ ALSO: Brief facts about Cecilia Abenaa Depaah's money hoarding scandal
The former Sanitation and Water Resources minister resigned 24 hours after details on a charge sheet from an Accra Circuit Court became public, indicating she had filed a complaint about some missing sums at her Abelemkpe residence.
Two house helps and other accomplices are facing charges of stealing the sums including US$1million, €300,000 and GHÇ350,000.
The former minister and her husband are also said to have suffered material losses including GH¢95,000 worth of clothes, US$35,000 handbags, US$1,400 assorted perfumes, US$95k reassorted jewelries and GH¢95,000 worth of assorted Kente.
READ ALSO: Money hoarding scandal in Cecilia Dapaah's residence: Kpebu outlines need for OSP's intervention