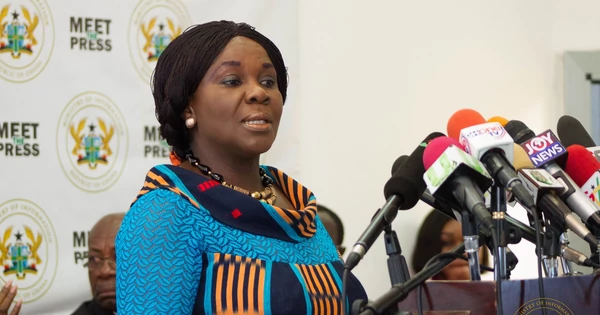 Two house helps of Cecilia Abena Dapaah, the Minister of Sanitation and Water Resources, and her husband, Daniel Osei Kuffuor, are facing charges before an Accra Circuit Court for allegedly stealing monies and items running into millions of Ghana Cedis.
The theft happened at her residence at Abelemkpe, a suburb of Accra.
18-year-old Patience Botwe and Sarah Agyei, 30, have been accused for allegedly stealing the funds and personal belongings of the couple between July and October 2022.
The stolen items include US$1 million, €300,000, and millions of Ghana cedis.
READ ALSO: Kasoa: 45-year-old man arrested for allegedly kidnapping, defiling 15-year-old girl at Ofaakor
The Chronicle newspaper reports that Patience, also known as Maabena, was a house help for the complainants, while Sarah was a former house help.
The paper went on to say that Mr. Kuffuor caught Patience hiding in their bedroom, which drew their consciousness to realise that some of their properties were missing.
Patience was remanded into lawful custody with her father and alleged boyfriends.
Meanwhile, Sarah was granted bail due to her status as a breastfeeding mother, with her bail condition set at GH¢1 million with two sureties.
Further investigations revealed that Patience and her alleged boyfriends rented an apartment in Tamale, purchased a car, and spent substantial amounts on various items using the stolen funds.
Sarah also used her portion of the money to build a 3-bedroom house where she was later arrested.
The case has been adjourned to August 2, 2023, for further proceedings.
READ ALSO: Water Resources minister decries increasing galamsey menace after seeing River Pra