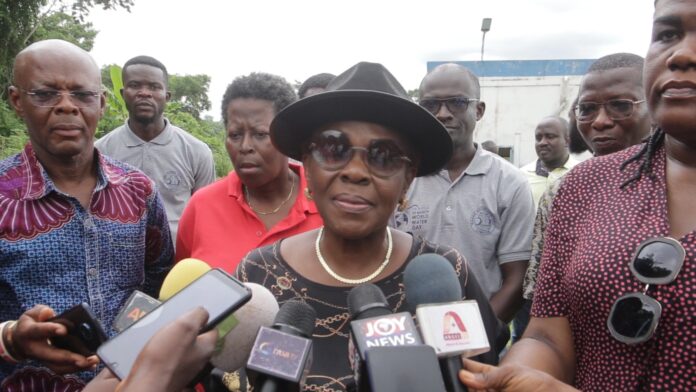 The Minister of Water Resources and Sanitation, Cecilia Abena Dapaah, has expressed shock and worry after seeing some illegal miners operating on the Pra River in spite of efforts by government to stop the activity.
She laments that the future is bleak for Ghana's water bodies.
The quality of water of the Pra River is getting worse by the day due to the activities of illegal miners. Currently, the laboratory analysis by the Ghana Water Company Limited shows very high turbidity and colour values.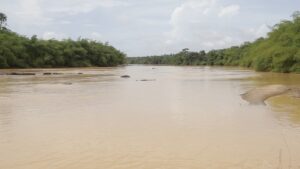 The galamsey challenge seems to have become an albatross around the neck of government as several attempts to deal with it have proven ineffective.
READ ALSO: Sammy Gyamfi dares presidency on another property of Akufo-Addo around which galamsey is allegedly ongoing at Kyebi
On a visit to the Daboase treatment plant of the Ghana Water Company Limited in the Western region Tuesday, June 6, 2023, by the Water Resources and Sanitation Minister, some illegal miners were busily prospecting for gold with a Changfan machine few metres away from the plant.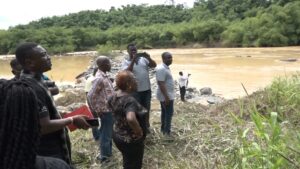 "The river bodies undoubtedly is very bleak if we continue like that. 10 o'clock in morning and they are on our river body, almighty River Pra doing galamsey with changfan. We've all seen it. That is the reason why we are saying that we need to fight and win this war.
"All these people have a right to mine but legally. We are not saying nobody should earn a living, they should leave the river bodies alone. Now we have contracted a loan to revamp these water systems and do a new bigger one and it is the same Pra that will give us the raw water so if we maltreat it and muddy it, where are we going" she lamented.
READ ALSO: Galamsey fight: I'm surprised Kan Dapaah has not arrested Wontumi – Captain Smart
It was a critical situation at Sekyere Heman headworks of the Ghana Water Company Limited as the Central regional Chief Manager, Seth Eric Atiapah disclosed the activities of the illegal miners is having a toll on them.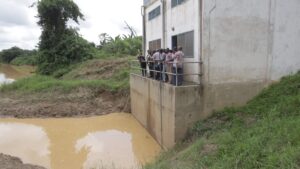 "This treatment plant was designed to produce about thirty thousand cubic metres a day. Currently we are doing fifteen thousand cubic metres just about half because of galamsey challenges we have over here. Galamsey has introduced a lot of silt to the catchment we have and because of high silt as a result of galamsey, we have to do frequent back wash other than that our filter media will clock and so many times we have to shutdown and reverse the treatment to wash the filter media and it comes at high energy cost for us and we are asking those involved in galamsey to stop," he said.
By Ebenezer Atiemo|Connect FM|Onuaonline.com