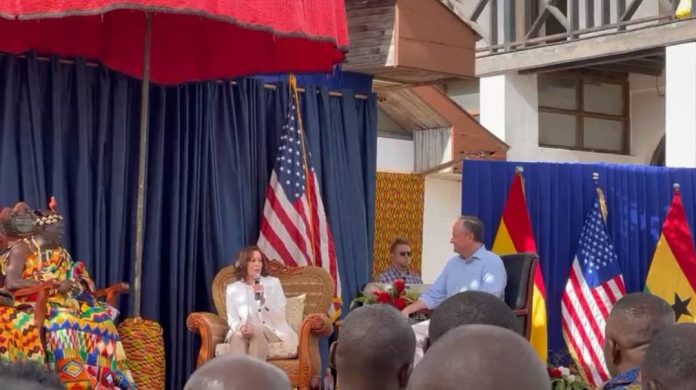 US Vice President Kamala Harris has officially appointed Virginia Palmer as the liaison between the Oguaa Traditional Council and the United States.
Ambassador Palmer's role comes as a response to a request made by the paramount chief of the Oguaa Traditional Council, Osabarima Kwesi Atta II which was granted immediately.
According to the chief, the liaison will enhance a cordial relationship between the Whitehouse and the paramountcy to help the latter embark on certain developmental projects through the former's assistance.
Granting the request, Vice President Harris said she believes a good relationship will help both outfits constitute a stronger bond that will help them relearn history to teach younger generations for their ancestral pride.
READ ALSO: Anti-Gay Bill: Bagbin urges Const.& Legal Affairs Cttee to fasten process following Akufo-Addo's dissociation before Harris
"I'll now officially appoint a liaison, the Ambassador to Ghana, who is here with us, I'll now appoint you Madam Ambassador to be official liaison to his Highness and to his extraordinary group of global leaders but I do appreciate the point that you've made and there is an unmistakable tie and bond and all relationships that are good relationship," she stated.
"I too believe that we must remember history for many reasons especially in the face of attempt those who deny us and we must teach it but teach it also with an understanding that it should teach us not only about our past but about our destiny and our future that we must learn from it in a way that we make the ancestors proud," she added.
The Oguaamanhen further asked for a reciprocal visit to the White House as a show of solidarity between Oguaa and the United States of America.
He added that, Madam Harris' visit to the Cape Coast Castle will be a moment of reflection for her to ponder over the cruelty of man to their fellow humans.
"I have intentionally not talked about the castle which I know you're going to visit. Over the years we've had President Obama and the wife visiting the castle, we've had the wife of President Trump, we've had Pelosi and now it's your turn.
READ ALSO: 'We'll continue to liberate our brains' – Smart chides Harris
"When you go there, and you carefully look around, you'll ask yourself so many questions. Why should anybody treat anybody the way our ancestors were treated and this gives a lot of thought but we're not in those days now," he indicated.
Vice President Harris will be leaving Ghana on Wednesday March 29 as she continues her three nation visit to Africa.
By Felix Anim-Appau|Onuaonline.com