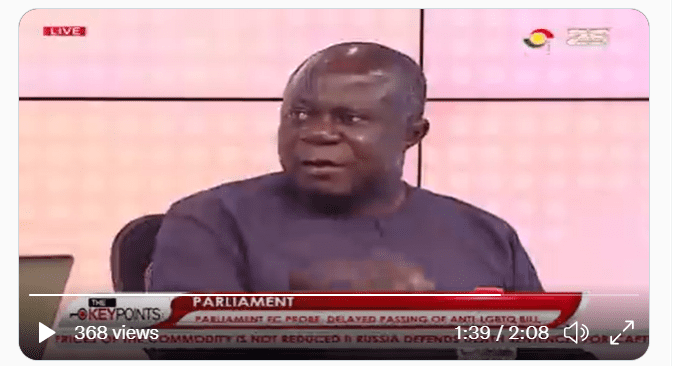 The Chairman, Constitutional, Legal and Parliamentary Affairs Committee of Ghana's Parliament, Kwame Anyimadu-Antwi has sent a word of caution to the LGBTQ+ community over the billboard raised in Accra that was advertising their activities.
"I am a Christian, my background is that I am Presbyterian. This bill board, I saw it on the news, even if I had gone past the billboard I probably would not know the meaning of the billboard but I sound the caution.
"The LGBTQI people community must very careful that this bill came about when they attempted to open an office in the Accra and then there was public outcry. So everybody is interested in this bill," he said on the Key Points on TV3 Saturday June 11.
The Ningo Prampram lawmaker said the bill board is an affront to the 1992 Constitution there if the Inspector General of Police fails to act , he and other citizens of this country will take action within the legal framework to destroy the bill board.
"As sponsors of the bill before Parliament and as Members of Parliament who represent the aspirations and will of the Ghanaian people, we have deemed it important to show up here today to register in the strongest term our displeasure, our discomfort and our abhorrence for unholy, uncultural and untraditional advertisement that has been put up on a very iconic road the N1, the Tema motorway.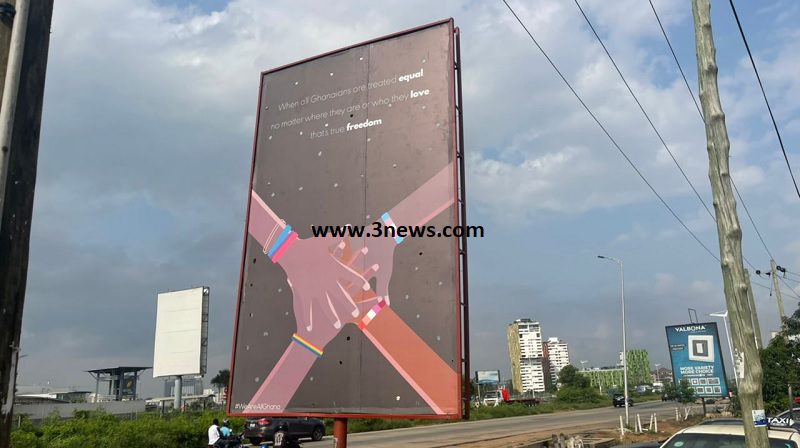 "We are by this, calling on the Inspector General of Police Dr Akuffo Dampare to immediately, within the next twenty four hours, carry out the necessary security operations to ensure that this billboard, which is an affront to the 1992 Constitution is taken down in conjunction with the MCE for the area. Failure to take action, as citizens we will take action as enjoined by the Constitution to defend the Constitution," he said while he and some lawmakers and anti-gay activist such as Moses Foh-Amoaning, visited the location of the billboard on Thursday June 9.
Source: Laud Nartey|3news.com|Ghana