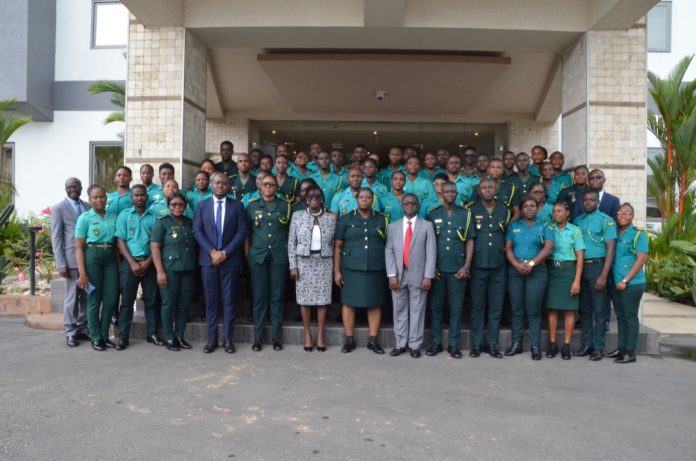 The Bank of Ghana has organised a day financial literacy sensitization programme for officers of the Western Region Ghana Immigration Service on banking services and consumer rights and responsibilities.
The event was to increase awareness on key financial consumer protection issues to enhance consumer confidence in the banking sector.
According to the Bank of Ghana, there has been an increase in the number of complaints lodged against licenced institutions in respect of products, services and practices.
The Bank explains that most of these complaints have bordered on issues such as non-disclosure of key information, wrongful application of interest on loans, imposition of unexplained charges, payment of remittances to wrong beneficiaries and other forms of financial fraud.
But according to the bank, a critical observation made from the complaints is the knowledge gap in financial and banking related issues on the part of some consumers of financial products and services.
"It is therefore imperative for the Bank of Ghana to join other stakeholders to create more awareness on some of the directives, guidelines, notices and rules that it has issued to safeguard consumers in their dealings with financial service providers. These include the Disclosure and Product Transparency Rules for credit products and services, the consumer recourse mechanism guidelines for financial service providers, the notice on the abolition of unfair fees, charges and practices. These guidelines and directives were issued to protect financial consumers by promoting fair banking practices and to enhance public confidence and trust in the banking sector," Western Regional Manager of Bank of Ghana, Kofi Assan said.
He is confident that an increase in awareness of banking and other financial related issues will go a long way to enhance consumer confidence in Ghana's banking sector.
Head of External Dispute Resolution, Bank of Ghana, Rev. Kwasi Twum spoke of the critical role the Ghana Immigration Service plays in the fight against money laundering and other cross border crimes for which reason their knowledge on the financial sector should always be enhanced.
"… Ghana went on the Grey A list of Anti Money Laundering. With stringent measures we are out of that list. Now, it is important that we don't go there again. The Ghana Immigration Service will play a major role in this regard considering the kind of work the Service does. So, it is important that there are always abreast with modern financial trends".
Speaking on behalf of the Regional Commander of the Ghana Immigration Service DCOI Dr. Price Asiama, ACI Beatrice Okpoti was hopeful that the sensitization will further enhance the Service's drive at curbing financial irregularities at the borders.
"Considering the fact that the world is a global village, it is very important for law enforcement officers to understand the Ghanaian financial legal framework and systems which will them help in the fight against money laundering and other cross border crimes. Furthermore, this training would empower officers to be extra vigilant when engaging in financial investment activities with companies in the country".
Participants were taking through presentations on rights and responsibilities as a financial consumer, customer complaints resolution procedures as well as creating a culture of Anti Money Laundering compliance.
By Eric Yaw Adjei|ConnectFM|Onuaonline.com|Ghana