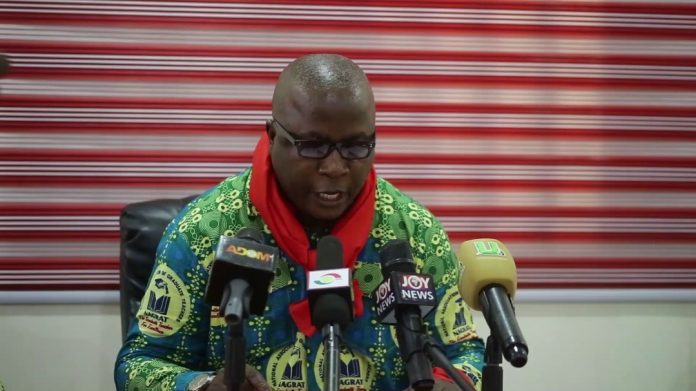 Western Regional Chairman of the National Association of Graduate teachers NAGRAT Justin Nelson says the association is ready to meet government officials who will decide to throw tantrums at their COLA request boot for boot if they will not consider more civil ways of engagement.
He wonders why government officials and other state workers will gladly accept pay increases "some as high as 80 per cent in the so called difficult times and will want to pooh pooh our 20 per cent demand, don't we also deserve what we are rightly due?", he questioned
"When they were given 79 per cent salary increment, parliamentarians 80 per cent salary increment, deputy ministers 65 per cent salary increment, how much were we given? It was 7 per cent. We accepted it and did not quarrel. So why is the deputy minister of employment suggesting that we are ungrateful. If he wants to throw tantrums, we are going to match him boot for boot," he cautioned.
Deputy Minister for Employment and Labour Relations Bright Wereko-Brobbey at a meeting entreated the striking teacher unions to reason with government as they were paid nine months for no work done during the COVID-19 peak.
But Mr. Nelson described the comments by Mr. Wereko-Brobbey as a palpable lie and insisted teachers have sacrificed enough for them to enjoy more than the 20 per cent COLA they are currently demanding.
"During the lockdown, we closed down on March 23 or so. And after that time, June 15 all the SHS teachers resumed full academic work. Then July thereabout the JHS teachers were in school teaching. It was only a fraction of teachers who were in the house…"
He asserted teachers are already making up for the loss time during COVID-19 and wants government spokesperson not to use the pandemic to whip unwarranted public anger against teachers.
"Hitherto, the primary was closing at 1:30pm and the JHS at 2:30pm. Now, they close at 3:30pm and 4:30pm depending on when classes started. So, you can clearly see that already we are making time for the loss period".
At the meeting held today, Wednesday, July 6, 2022, Mr. Nelson was doubtful that the striking teacher unions will change their stance if government will not grant their 20 per cent COLA demand.
By Eric Yaw Adjei|ConnectFM|Onuaonline.com