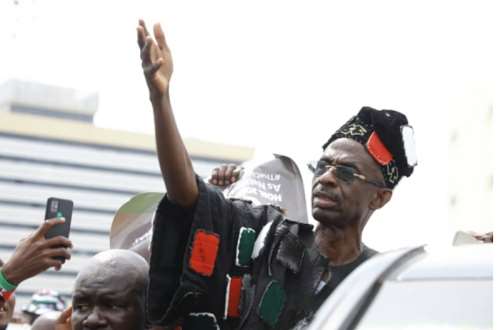 The state of affairs that triggered coup d'etats in Ghana prior to the Fourth Republic have all been surpassed under the leadership of President Addo Dankwa Akufo-Addo, Johnson Asiedu Nketia, has said.
The National Chairman of the opposition National Democratic Congress (NDC) was blunt in voicing out that President Akufo-Addo's administration has been poor and filled with incidents that have, in the past, resulted in military coups.
He, however, indicated that Ghanaians have memories of the hardship that come with military rules, the reason coup has not been an option in these perilous times.
READ ALSO: Reshuffle in military hierarchy can't stop coup d'etats – African leaders told
General Mosquito, as he is known in the political space, also expressed concerns with what he described as ineptitude and corruption that has engulfed the Akufo-Addo government.
But for the painful experiences of Ghanaians with coup d'etats, the current circumstances according to the NDC Chairman, would have triggered serious consequences, including military coups.
"All the red lines which have, in the past, led to coups in Ghana have been crossed. But because the country has learnt its lessons, the consequences (of bad governance) seen in the past are not what we are seeing today," he said in Twi on Accra-based CTV.
Asiedu Nketia noted in addition to his submission that military takeovers were rampant in the days because they were regarded as the last resort to poor governance.
He said the Cecilia Dapaah money hoarding saga that has raised serious discussions for instance, could have created insurgency through public outrage,? but the lessons from yesterday has saved the situation.
READ ALSO: Akufo-Addo is a democratic assassin – Asiedu Nketia