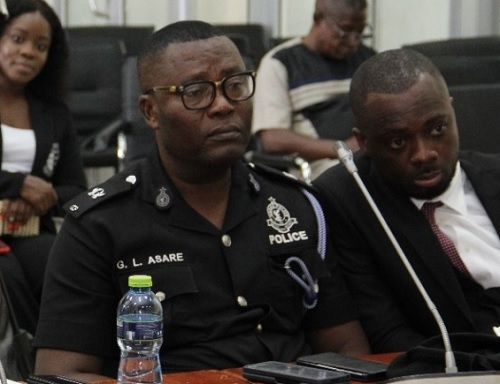 One startling revelation that emerged at the committee hearing the subjects involved in the leaked tape allegedly plotting the ousting of Dampare was the suggestion of spiritual practitioners (mallams) to deal with the IGP.
Supt. George Asare, a senior police officer implicated in the matter accused a former Northern regional chair of the NPP, Daniel Bugri Naabu, for recommending the consultation of mallams to deal with the spiritual aspect of getting the IGP out.
Appearing before the committee Monday, September 4, 2023, Supt. Asare said Bugri Naabu suggested three of these mallams and insisted the course of removing the IGP needed to be handled both physically and spiritually.
He recalled how Bugri Naabu said he had helped many people secure positions before with the help of the three mallams he mentioned. He, however, indicated that he objected to the idea as a staunch Christian but Bugri Naabu insisted it was necessary.
Asare also reiterated his stance in the whole conversation saying he was not the architect of the alleged plot to take out the IGP but rather a discussion which was a brainchild of Bugri Naabu.
He further stated that the chief also suggested some Imams who could offer prayers to support along with those mallams some of whom were from Bugri Naabu's village.
Despite being aware of the Christian background of COP Alex Mensah, another senior officer involved in the matter, together with himself, he insisted on the need for the spiritual exercise.
The senior police officer also disclosed that the portion of the tape which had him objecting to the services of mallams had been omitted, a clear indication that the audio was doctored for a specific agenda.
Meanwhile, Supt. Asare declined to comment about the performance of the IGP in public but opted to do that in-camera.
READ ALSO: Who am I to pass comment on Dampare in public? – Supt. Asare opts for in-camera hearing to answer some questions