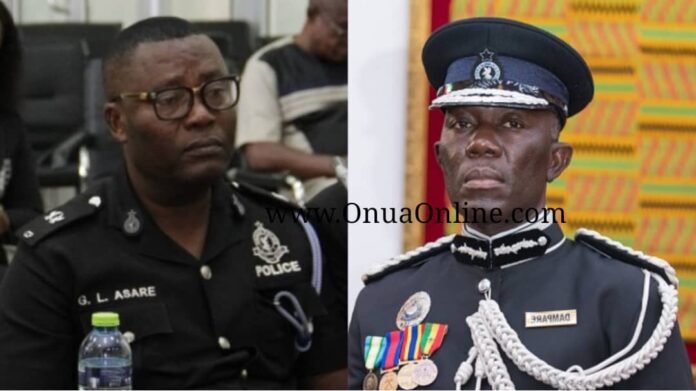 One of the police officers at the centre of the tape containing the alleged plot to oust the IGP has refrained from commenting on the performance of the police administration.
Appearing before the parliamentary adhoc committee Monday, September 4, 2023, Supt. George Asare noted that making public pronouncement about the police service would cause him more harm than good.
His response followed a question from the committee that sought his take on a comment made by another officer that the IGP is poorly managing the police service.
READ ALSO: Bugri Naabu confirms he recorded leaked tape for Dampare's ousting; names officers involved
COP George Alex Mensah, the Director of Operations of the Ghana Police Service had disclosed to the committee that the Inspector General of Police (IGP), Dr. George Akuffo Dampare is not managing the police service well.
He said it is an open secret among the top brass of the police service that things are not going well under the current IGP.
Speaking to the committee probing the leaked tape of the IGP, COP Mensah said the IGP's leadership has led to a decline in morale among many police officers.
"Dampare is not managing the Police Service well and the majority of police officers are not happy. You can call the police officers underground and they will tell you," COP he told the committee on Thursday, August 31.
Asking for his take on the statement, Supt. Asare said: "As humble and obedient as I am, whom am I to comment about the performance of my IGP or the police administration, I can never pass comment in public like that."
However, when the committee probed further if he would "be able to be honest professionally, and comment on the performance of the IGP and police service in-camera", he said "exactly so!"
READ ALSO: IGP's leaked tape: Dampare may be hauled before ad-hoc committee to ascertain authenticity of audio – Agalga