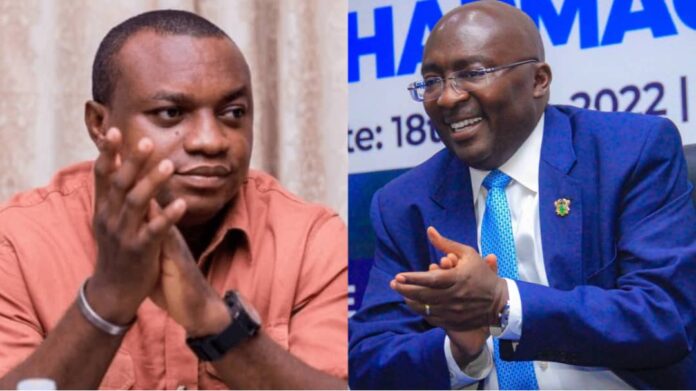 The Deputy Director for Special Duties for the National Democratic Congress (NDC), Ernest Yaw Brogya Genfi, has asked the youth of the party to pray for a resounding victory for the Vice President, Dr. Alhaji Mahamudu Bawumia, in the upcoming presidential primary of the New Patriotic Party (NPP).
According to Mr. Genfi, the Vice President has caused many atrocities in his capacity as the second gentleman of the land, and defeating him in the general elections would be the easiest battle for the NDC.
Mr. Genfi was addressing the NDC youth in Ejura Sekyeredumase Sunday, September 3, 2023, when he said "pray for Bawumia to win the NPP Presidential primaries on November 4th because he's the one we are prepared for."
READ ALSO: Return to IPAC – Afari Gyan advises NDC
"The Vice President has caused more harm to the country but we can be at least benevolent at this point by praying for him to win the primaries. Let us pray he gives Kennedy Agyapong and Co a real showdown," he told the youth.
The programme was organised to galvanise the NDC youth to orient them about the challenge ahead in 2024.
In attendance was the Ashanti regional Chairman and Secretary of the NDC, the Regional Youth Organizer and Deputy, the National Organizer, Deputy General Secretary and Deputy National Youth Organizer as well as the newly appointed Director for Inter party/CSOs relations.
Giving his remarks, Chairman for the gathering, who is the Member of Parliament for Ejura Sekyeredumase, Mohammed Bawa Braimah, called on the youth to work hard to ensure another term victory for the party in the constituency in 2024.
READ ALSO: Election 2024: Mahama rallies Ghanaians to make Akufo-Addo, Bawumia account for corrupt leadership with defeat