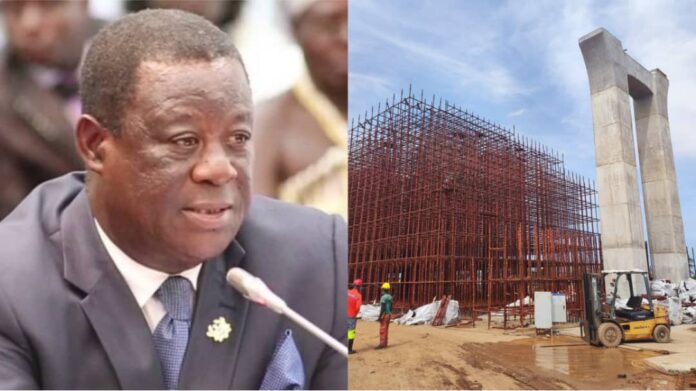 Many roads and interchanges have stalled in the country courtesy the Domestic Debt Exchange Programme (DDEP) and the bailout from the International Monetary Fund (IMF), the Roads and Highways ministry has indicated. 
The Head of Public Relations at the ministry, Nasir Ahmed Yartey, has listed the Obetsebi Lamptey interchange, Flower Pot Interchange, Tema Motorway interchange, Nungua Barrier Interchange, Kumasi Suame Interchange, and the Takoradi PTC interchange (which is about 75 per cent complete) as part of the key interchanges yet to be completed in the country.
According to Mr. Yartey, works on the aforementioned interchanges were moving at a faster pace until the IMF bailout and the DDEP emerged to make things slow.
"Before the IMF and the debt exchange programme, we got into as a country, you agree with me that all these interchanges that you referred to were moving at similar paces, and they were moving very fast. It is the IMF and the debt exchange that has affected them and slowed them down," he said on Accra-based Citi FM Monday, September 4, 2023.
He noted that but for the bridge being put across the motorway, the Flower Pot interchange would have been completed in a short while but he is certain that it would be completed by March 2024.
"The Flower Pot interchange is on schedule to be completed. The major hurdle now is the construction of the bridge over the motorway. We issued a press release on it this morning, and work is going on over there very seriously. Once we are done with the construction of the bridge over the motorway, what will be left will be the groundwork, road work, and other things.
"Those ones don't take much time. The concrete ones don't take much time, so once we are done with that one, we should be finishing that project on schedule. The project is scheduled to be completed early next year, so we are looking at somewhere by the end of the first quarter or the second quarter of next year," he added.
For the Obetsebi-Lamptey, Nungua, and PTC interchanges, Mr. Yartey maintained that they had been affected by the DDEP,  and that government was in talks with its financiers to get them running.
"That one (Obestebi-Lamptey interchange) together with Nungua and PTC in Takoradi have been affected by the debt exchange that we've entered into. As I speak to you, the government is negotiating with its financiers to see how best we can get these projects back running, and we are hoping that before the year ends, we should be hearing some good news and getting the contractors back," he explained.
READ ALSO: Residents burn tyres, block roads in protest of bad roads at Duadaso