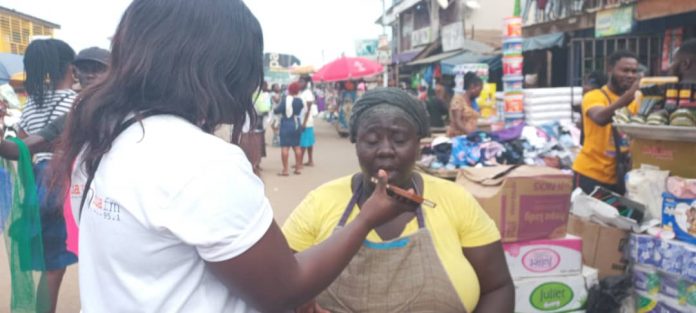 Traders at the Ashaiman market are complaining of low sales following the murder of the military officer at their suburb called Taifa.
During an out-broadcast of the Onua morning show, Maakye, at the Ashaiman main traffic light Thursday, March 23, 2023, some market women who spoke with Akua Sarpomaa said sales was okay until the unfortunate incident took place.
According to them, the sight of military officers near the market scatters buyers who are still terrified by the Saturday, March 4, 2023 incident.
A pepper seller who spoke with the team said: "Sales was better after the Christmas. But since the soldier's incident, sales has dropped drastically. We don't know whether people are afraid to come here. Before the soldier's death, I could sell 3 bags of pepper a day. But after the incident, the highest I sell is a bag and a half."
"It wasn't all that good, but it was better compared to now. People come here to ask for prices and leave," a man added.
According to another woman, "whenever we see them (soldiers) coming someone will scream that they are coming and everyone flees. People fear that they are coming to do something to them."
"Some flee when they see them (soldiers) coming especially the junky boys but some of us we don't fear because we know we haven't committed any crime or done anything wrong," a young man who sells second-hand clothing added.
Young Imoro Sherrif was murdered at the dawn of Saturday, March 4, 2023 when returning from his friend's house according to his mother's report.
The military undertook a swoop and subjected innocent residents to torture where some 184 of them were arrested.
One person bled to death as a result of the injuries sustained few days after the brutalities.
READ ALSO: Victim of Ashaiman military brutalities allegedly bleeds internally to death
Some six suspects made up of two murderers and four involved in the purchase of the deceased soldier's iPhone have been remanded into prison custody and to reappear in court on March 27.
By Felix Anim-Appau|Onuaonline.com|Ghana