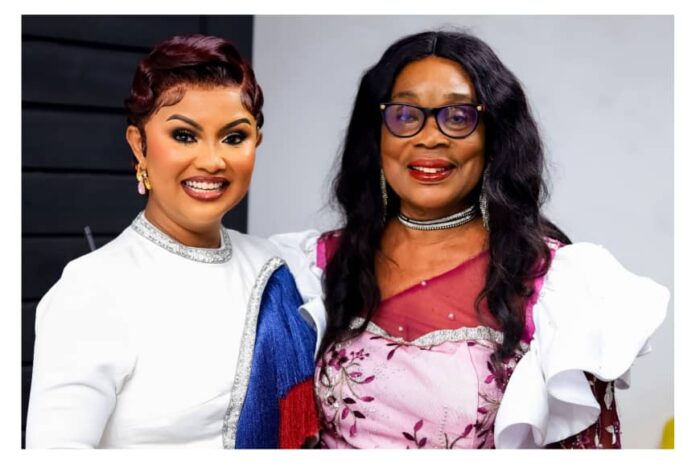 In the 90s and 2000s, Maame Dɔkono, the owner of Ghana's version of the Tahir Square, Obra Spot, at Nkrumah Circle in Accra, was a household name since almost every Ghanaian had to climax their weekend with the famous Akan Drama, a popular sitcom which was aired on GTV.
The Obra Drama Group was one of the most popular troupes that shaped the lIves of many people and inculcated into the younger generation, the Ghanaian values and culture through drama.
The owner of these two Obra brands, Grace Omaboe, popularly known as Maame Dɔkono (Madam Kenkey) has paid her dues when it comes to the showbiz industry.
As one of Ghana's biggest female presenters currently, Nana Ama McBrown, host of Onua Showtime honoured the legend's work by eulogising her during the cake-cutting ceremony for her 46th birthday which was  celebrated in a grandstyle on TV.
Before the very first cake was cut, McBrown invited Maame Dɔkono to join her do that for leading the path for her to follow.
"Mother, please join me to cut this cake. I'm doing this because you led the path and I followed your steps. Whatever I am doing today is a continuation of where you left off," McBrown lauded.
After taking a bite, McBrown gave some to Madam Omaboe with the expression, "sɛ obi hwɛ wo ma wo se fifiri a, wo nso wohwɛ no ma nedeɛ tutu" to wit if someone caters for you to develop your teeth, you replicate same gesture for the person to lose his/hers, meaning, one good turn deserves another.
Artistes Diana Hamilton, Akwaboah Jnr., Akosua Agyapong, Brother Sammy, Perez Musik, Odehyeɛba Priscilla and a host of others also graced the celebration.
READ ALSO: McBrown climaxes 46th birthday with a massive show of love from Showtime fans