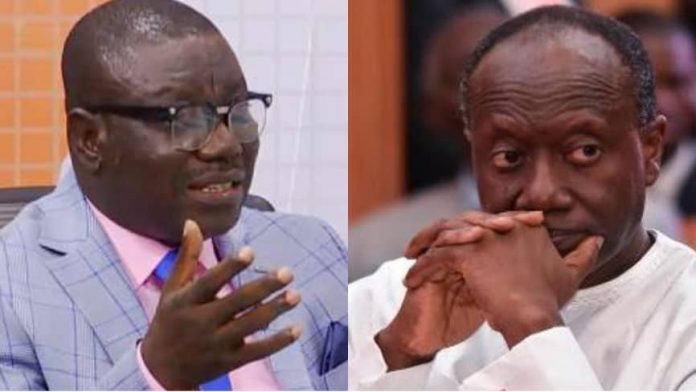 Parliament's Finance Committee member, Isaac Adongo, says the Finance Minister, Kenneth Ofori-Atta, yesterday justified why he was running away from Parliament to account for the Covid-19 response expenditure.
Mr. Adongo says what the minister has presented to the House earlier, compared with what the President has said, was incongruous with the amount quoted on the floor yesterday.
Speaking on Onua TV/FM's 'Maakye' on Thursday, June 23, 2022, the Bolgatanga Central Legislator said there is a missing GH₵10million Ken Ofori-Atta must come and account for.
During his presentation in Parliament Wednesday, June 22, 2022, on government's Covid-19 response expenditure, the Minister of Finance and Economic Planning indicated government mobilised a total of GH¢18.19 billion to mitigate the impact of the Covid-19 pandemic in the country for 2020 and 2021.
However, it ended up spending GH¢12 billion out of the total figure generated within the period in question.
"Mr. Speaker, to mitigate the impact of the pandemic on businesses and households, ensure that economic activities recover and minimize job losses, government mobilised GH¢18.19 billion out of the programmed GH¢19.3 billion in 2020 from various funding sources.
"Mr. Speaker, for the years 2020 and 2021, the programmed expenditure amounted to GH¢15,763.48 million for the COVID-19-related expenditures out of which the actual utilisation was GH¢12,036.41 million," he added.
But according to Mr. Adongo, page 274 of the 2021 Budget Statement and Economic Policy, appendix 12(b) which has the performance funding of COVID-19 sources says GH₵22.1billion was the total expenditure which the Finance Minister couldn't account for.
"His account justifies why he was running from Parliament. Does he think we wash our faces upwards? GH₵10billion is missing from the expenses.
"The President told us the expenses was GH₵17.7biIlion and you also came to tell us GH₵18.1billion –which is close. So why this amount today? I've never seen a government much experienced in thievery as this. So it means he was dodging because of the missing GH₵10billion? It means if we didn't have the power to prevent him from taking further monies, he wouldn't have come," he lamented to host, Captain Smart.
"Did you take ₵17.7b or the ₵22b that you're now saying it's ₵12b? Even that money, what did you use it for? You've never mentioned GH₵12b but GH₵18.1b and GH₵22b so where is the remaining GH₵10b? He added.
Source: Felix Anim-Appau|Onuaonline.com|Ghana