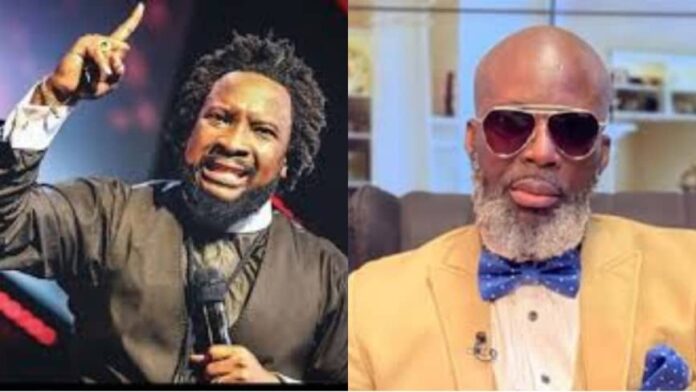 Rev. Nicholas Osei, the General Overseer of the Heaven's Gate Ministries commonly known as Prophet Kumchacha has asked Gospel minister and preacher, Sonnie Badu to leave pork eaters alone.
Sonnie Badu who currently pastors the Rockhill Chapel in Atlanta was reported to have said that people who ate pork were susceptible to demon attacks.
READ ALSO: Election 2024: Kumchacha makes 4 appointments from Media General as president
"I am not afraid to say it again…. Witches, wizards, and witches doctors access you quicker when there is an unclean thing found in you …. They start accessing you through dreams .. 1. Have you been dreaming eating? 2. Have you dreamt drowning? Have your dream being injected? 3. Are you experiencing sex in your dreams? If so, it's time to check what you take in .. Please believe me don't let them fool you .. As a deliverance minister this is my advice to you. Take it or leave it .. Hence, keep this message for the future – you might need it …," he posted
In a sharp rebuttal, Reverend Kumchaha has given an exposition on the bible verse the "Let It Rain" singer used in admonishing Christians.
"What Sonnie Badu said was quoted from the book of Leviticus 11. But he [Badu] failed to add verses 19-28, which speak against tattoos. It says we shouldn't draw tattoos of either the living or dead on our bodies," he indicated.
According to the outspoken clergyman, Sonnie Badu was not speaking the whole truth on the matter as the next verse also prohibits tattoos on a person's body; an act the preacher has visibly indulged in.
READ ALSO: How Captain Smart turned a Highlife/Afropop artiste into a praise singer in Onua TV studios
"He [Badu] was able to talk about the part of Leviticus which focuses on pork but left out the part which speaks against the tattoos he has all over his body." he disclosed.
Continuing he said that "In Deuteronomy, the Bible permitted God's people to eat pork. I want to tell Sonnie Badu that even the pork isn't enough for us. We are not getting more of it these days,"
Badu in the past has opened up about his tattoos and revealed that God was interested in a person's soul as opposed to his body after he was condemned by Christians for his actions.
Source: 3News.com|Ghana