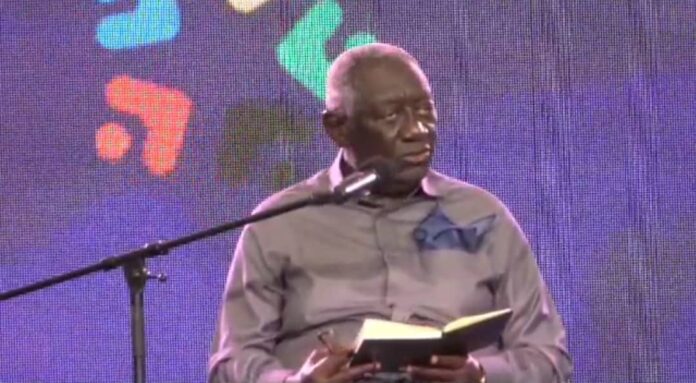 Former President John Agyekum Kufuor has reminded those in government that true power resides in the people and that they should prioritise the wellbeing of the masses in their decisions.
According to Ghana's second president of the Fourth Republic, leadership should ensure transparency and accountability become a main concern of decision makers.
He was speaking at the National Development Conference organised by the Church of Pentecost at Gomoa Fetteh in the Central region Wednesday, July 26, 2023.
READ ALSO: $100 million of Ghana's oil money missing – Minority raises concern
"Indeed the national constitution of Ghana reposes sovereignty in the people as a whole and this is why the conditions of accountability and transparency are prerequisites to governance so the governors would always be mindful that they hold power in trust of the people, the real owners of power," he intimated.
He held that the event was an opportunity for stakeholders to bring all on board in formulation of their policies irrespective of one's status in society.
"A forum such as this should contribute to refocus our society in infusing and indeed integrity, morality in our search for proper development.
READ ALSO: A multitude of illegalities cannot constitute legality – Sammy Gyamfi tells EC
"In this regard we must agree that all development can only be justified in terms of service to better the wellbeing and the lot of all our citizenry inclusively regardless of tribe, religion, ideology, gender, wealth or whatever," he said.
John Kufuor added that, "this trip today is touch stone to fix the proper compass to constitute development of our nation and I want to thank the Pentecostal Church of Ghana for the historic initiative of bringing all of us the stakeholders [together]."
At the same event, Chairman of the Church of Pentecost, Apostle Eric Nyamekye, asked politicians to think about the future of the nation rather than winning the next elections.
For his side, former President John Dramani Mahama implored the citizenry to stop celebrating people who have acquired wealth through dubious means.
READ ALSO: Stop celebrating people with dubious sources of income – Mahama
READ ALSO: Prioritize the next generation, not the next election – Church of Pentecost Chairman tells politicians