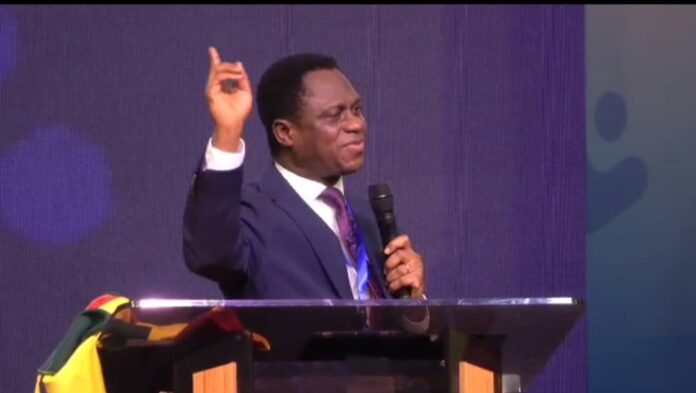 Chairman of the Church of Pentecost, Apostle Eric Nyamkye, has charged politicians to think about the welfare and future of Ghana rather than thinking of winning elections.
According to him, politicians see the problem people go through in this country, yet because of elections, they refuse to take the bull by the horn.
The Chairman, speaking at the National Development Conference organised by the Church of Pentecost at Gomoa Fetteh in the Central region Wednesday, July 26, 2023, said it was time politicians forego the present pleasures and winning the next elections and build a better future for the unborn generations.
READ ALSO: June 4 Uprising: NDC to govern Ghana with Revolution principles in 2025
"This is what most politicians fear to do. We don't have to live for four years. We will achieve nothing. If we are living for four years, four years. The Protestants, they lived with the next generation in mind. So sometimes instead of disturbing the present to have a better future, they think of the next four years, [and] they stop," he stated.
Speaking further, Apostle Nyamekye bemoaned the daylight suffering of the masses that politicians have turned a blind eye on, failing to address them because of the fear of stepping on toes to affect them in the "next elections."
He asked "how many of us don't see women lying down on the streets of Accra selling on the roads? Three lanes, one lane is for the market women. Nobody wants to talk and when the NPP decides that let me push them back, his fellow colleague will call him, remember, next year is election. If we don't stop these things, we'll not change this nation. How can we live for just four years and for the next election?"
READ ALSO: Akufo-Addo's 'Yɛte sika so' comment stemmed out of hunger – Captain Smart
He maintained that, the future of Ghana is determined by the decisions of today.
"This nation that we have received has come from our forbearers. We should also live for the next generation not for the next four years.
"The future is determined by the present. What we do today, will give us a better Ghana or otherwise. We can begin creating the future today if we want to," he size.
READ ALSO: Romanian ambassador who allegedly compared a monkey to African diplomats recalled