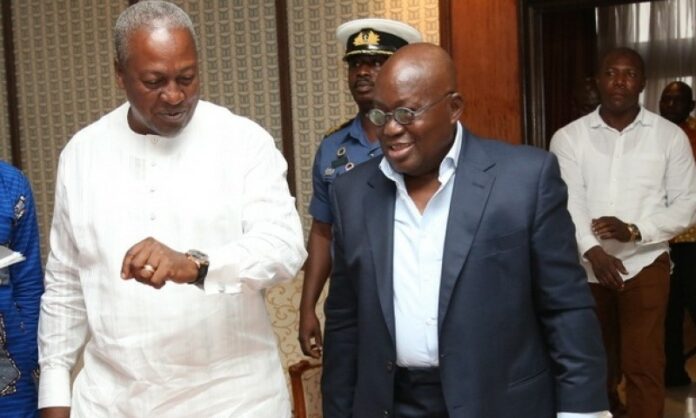 Since his assumption into office in 2017, President Akufo-Addo's performance has been nothing but to glorify John Dramani Mahama on a daily basis, youth activist and social commentator, Ivan Innocent Kyei has been indicated.
According to him, the President's actions, especially regarding corruption, has been very disappointing making him leave behind a poor legacy.
"His legacy has washed Mahama clean. His actions are motivating and incentivising people to go into crime with how he clears people" making Mahama an angel of a President.
He says some of the major indicators of the Akufo-Addo government including borrowing, inflation, corruption, appointment of family and friends, Ghana resorting to the International Monetary Fund (IMF) for a bailout despite saying it wouldn't happen, has made his predecessor a better option.
His comments follow portions of the content in President Akufo-Addo's acceptance letter to Cecilia Abena Dapaah's resignation as Sanitation and Water Resources minister.
President Addo Dankwa Akufo-Addo expressed optimism towards Cecilia Abena Dapaah's exoneration following her resignation from office.
The President in the letter said the integrity with which Abena Dapaah served the government and the nation will be established after investigations have taken place.
"I am confident, like you, that, at the end of the day, your integrity, whilst in office, will be fully established. I wish you the very best in all your endeavours," the President said in his letter.
READ ALSO: [VIDEO] God, please let one of our MPs die so that Nana Addo & Bawumia will give us dev't – An Obuasi woman's prayer 
The President added that he has accepted the resignation with regret.
"It is with considerable regret that I accept your resignation, and I applaud your loyalty to the image and standing of the Government.
"The work you undertook during your period in Government was excellent and productive, and I thank you for your wholehearted contribution and devotion to the progress of the Government and the Nation," he touted.
The former Sanitation and Water Resources Minister, Cecilia Abena Dapaah resigned 24 hours after details of a complaint she lodged at a police station became public.
READ ALSO: Hassan Ayariga blames traders for continuous increase in food prices
She reported with her husband about some huge sums of monies and other valuables that were stolen from the bedroom of her Abelemkpe residence where she stays with her daughter and spouse.
The former aide to President John Agyekum Kufuor said the US$1 million, €300,000, millions of undisclosed amount in Ghana Cedis, together with some other items indicated on the charge sheet of an Accra Circuit Court are not a reflection of what she reported to the police.
But the sums involved raised eyebrows regarding how a minister could keep such ransom in her home rather than the bank.
Prior to her resignation, many had called for her suspension and intervention of the Office of the Special Prosecutor to examine the case.
READ ALSO: Brief facts about Cecilia Abenaa Depaah's money hoarding scandal