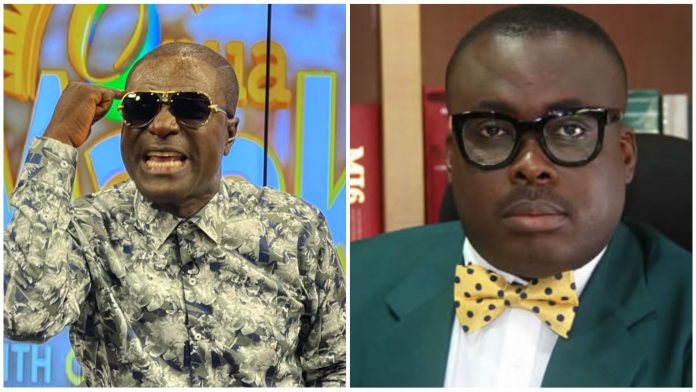 Blessed Godsbrain Smart, aka Captain Smart who hosts Onua TV/FM's morning show has described as an "unseasoned braggart", host of Metro TV's Good Evening Ghana, Paul Adom-Otchere.
Mr. Adom-Otchere according to Captain Smart, is a "miserable chameleon that attracts no colour".
His description follows Mr. Otchere's uncensored criticism of Togbe Afede's refund of an ex-gratia paid him as a Council of State Chair from 2017 to 2020.
The Agbogbomefia of the Asogli State, Togbe Afede XIV had found it inappropriate to receive the said amount when he already took monthly salaries for serving on the Council.
In a statement, he said, "I did not think the payment was made to trap me, as is being speculated. I believe it was paid to everybody who served on the Council of State. However, I thought that extra payment was inappropriate for a short, effectively part-time work, for which I received a monthly salary and was entitled to other privileges."
"So, I was very uncomfortable with it," he added.
Togbe had returned the ex gratia with the general reason that he abhors payment of such monies for a job he considers part-time.
"We are not in good times. I urge the good people of Ghana to expose all evil conspiracies and corruption in order to rescue the nation and its resources from further decadence," the press release from his Special Aide concluded.
But Mr. Adom-Otchere is said to have picked on the immediate past President of the National House of Chiefs for returning the GH¢365,392.67 paid him while hosting his show on Tuesday, June 7.
He said Togbe's action was influenced by his political leanings more than the patriotism he has shrouded the act with.
Togbe has, however, challenged Mr. Adom-Otchere to substantiate some allegations he levelled against him.
In a press release issued by his Special Aide, Dr. Elikplim Kwabla Apetorgbor, Togbe Afede XIV said he has never stooped that low and gone that "cheap level" to receive travelling allowances from Ho while as a member of the Council as alleged by the TV host on his show.
He described Mr. Adom-Otchere as "unethical and ignorant".
The royal insists the car loan he is accused of receiving was from SG-Bank under the Council of State and not government.
"Meanwhile, he has paid his loan," the press release clarified.
But ranting oh his show Thursday, June 9, 2022, Captain Smart said "If care is not taken, the so-called Snr journalists in this country will drop their sense for dogs to lick it."
He alleged that the journalist cum Board Chairman of the Ghana Airport Company is always defending the government even when there is nothing to defend because he has been given "two Landcruisers, a Toyota Avensis, a house and a monthly stipend."
He also reminded him that, even though the NPP is in power today, power they say, is transient.
"Paul, our party is in power today but the fact is that we won't be in power forever," he told him.
Source: Felix Anim-Appau|Onuaonline.com|Ghana