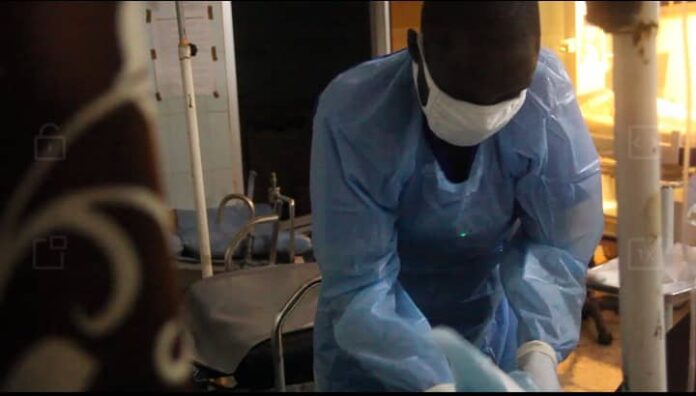 Being a midwife in rural communities in Ghana comes with its own challenges spanning from lack of access to basic social amenities to the work load on one person.
Even more challenging is being a male midwife in a society that value the privacy of women.
After undergoing the necessary training to provide women with support and care during pregnancy, labour and childbirth, male midwives just like their female counterparts also have to help women to stay healthy in the period of their pregnancy as their profession demands.
In 2013, the training of midwives in Ghana through a pilot programme in selected midwifery training colleges by the Ministry of Health and the Ghana Health Service, was scaled up to include males.
This was to ensure that women have access to reproductive services.
35-year-old Justice Kudjo Kutob became one of the beneficiaries of this programme at the time.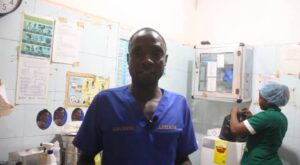 Having completed his professional midwifery training, he has been working as a staff midwife at the Salaga Government Hospital.
Justice is one of three male midwives serving in the East Gonja municipality of the Savannah region.
READ ALSO: Twifo Praso: Residents lament pollution of Ɛntafrewaso stream by liquid waste from hospital
READ ALSO: PAC refers 26 heads of health institutions for prosecution over procurement breaches
Like any other midwife working at the Salaga Government Hospital, Justice runs the morning, afternoon and night shifts and conducts 3 to 4 deliveries a day depending on the number of cases.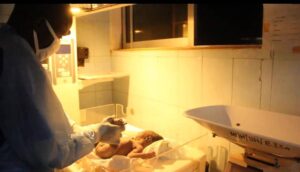 "When the ward is busy I do more work because when the women come most of them want me to attend to them though initially they had a different perception about me because of my gender.
"It is not easy winning the trust of a woman in pain but with hardwork and determination I have been able to prove myself to them to win their trust to allow me handle them, afterall everything ends after delivery," he shared
For him, working in a rural community with obsolete equipment and inadequate consumables is a bane of the job.
"When it comes to consumables for the work, we keep on improvising every blessed day but at the end of the day there is no motivation so this must be relooked at.
"Most of the women come here without labs and it is a serious risk attending to them without knowing their status," he indicated.
For him, the rural worker deserves better.
"Those of us in the rural areas take the same salary as those in the cities. There is no motivation"
For justice, government must consider reintroducing some allowances and motivation for rural health workers.
Meanwhile, the midwife in-charge at the Salaga Government Hospital Braimah Zellia told our news team how the presence of justice in the ward is impacting their work.
She called for the reintroduction of the training of male midwives.
"Looking at how hardworking Justice is, I think the male in midwifery training programme should be reintroduced for more male midwives to support us," she pleaded.
For her, more needs to be done for the Ghanaian worker.
"The Labour Commission and other unions must fight for the interest of workers especially the rural worker because we work more and take home less. The bush allowance and other allowances for the rural worker should be reintroduced," she reiterated.
By Christopher Amoako|Savannah Region