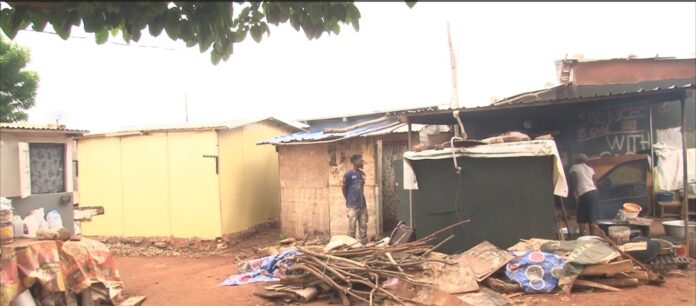 Squatters at Shiashie, a suburb of Accra are calling on government and other philanthropists to help provide bathrooms, washrooms and places of convenience for them.
According to the squatters, Shiashie has about 3,500 kiosks and uncompleted structures, all filled with families and individuals, yet there is no public place of convenience or bathroom within the area.
Speaking to Madam Oforiwaa, a resident in the area, she lamented that currently they go into the bush anytime they need to attend to nature's call and bath in wooden structures made by themselves not suitable for women.
READ ALSO: 15 persons, including a boxer, arrested for open defecation, improper waste disposal
"Females either married or not married cannot go into the bush alone, you always need to go in the company of one or two friends anytime you want to attend to natures call, else you will either be raped, or injured if you don't succumb to them."
She further continued that there has been countless robbery and murder issues in the area which they have reported to be curtailed but to no avail.  "Kids cannot be left to play within the vicinity else the parent might come out to meet a lifeless body while men are always robbed, stabbed or even killed," a resident indicated.
According to the squatters, they are in the capital as a result of urban migration in search for greener pastures but upon getting to Accra, they realized things were not as easy as envisaged. Hence, they have to sleep in kiosks, while others perch in drinking bars and food joints.
READ ALSO: Kasoa: Residents resort to defecating in 'polythene bags' due to increase in toilet fees
Madam Oforiwaa continued that, while many of them have employable skills, there are those who have learned a trade but lack the wherewithal to set up their own businesses.
However, they find themselves in such unpleasant structures because rent is expensive which they cannot afford, with some of them staying there for almost 20 years.
According to Oforiwaa, while others occupied the space freely, she, together with her family had to pay an amount of GHC100 a month for one year. They all got there by referral through friends or relations, and erected their wooden structures.
"Currently all we need is a suitable place of convenience, bathrooms and security to at least feel safe within this slum since we live here for now."
READ ALSO:Birim South: Chiefs scorn MP over neglect of constituency 
By Clara Boadi Konadu|3News|Onuaonline.com