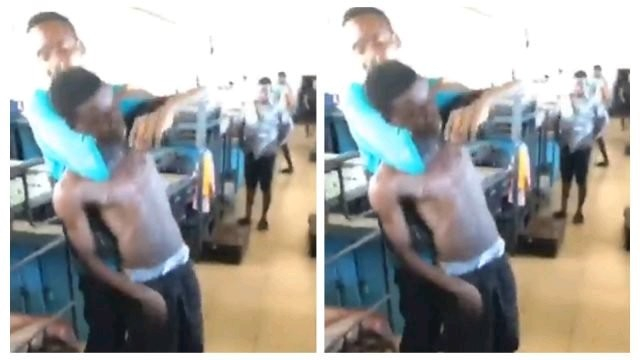 The Cape Coast District Court 2 has adjourned the case involving a student of Adisadel College seen in a viral video allegedly assaulting his colleague, to August 2, 2023.
The case which was being heard in court for the first time had to be adjourned because the court did not have a full panel, TV3's Central Region correspondent Thomas Cann reported on Friday, July 28.
Earlier this week, the Housemaster of Quaque House at Adisadel College was interdicted pending investigations into a viral video involving two students.
READ ALSO: Wa Technical Institute: 3 students in police grips for attacking housemaster
The video showed the two students – with one holding tightly the neck of the other and hitting his (victim's) head against the metallic bed frame. Immediately, the victim's face gets swollen.
The school's administration took immediate punitive actions, one of them being the interdiction of Ekow Holman.
"I regret to inform you that you have been relieved from your position as Quaque Housemaster with immediate effect," a letter dated Monday, July 24 and signed by the Headmaster, Samuel Kofi Agudogo opened.
READ ALSO: Adisco Housemaster interdicted over students misconduct
"You may be reinstated as a housemaster based on the outcome of investigations."
The letter pointed out that Mr Holman "did not deliver as expected of you as housemaster as far as this video is concerned".
The Ghana Education Service (GES) condemned the incident, applauding the school's authorities for the swift punitive actions taken.
"Ghana Education Service assures the general public that we are taking this matter very seriously and are committed to ensuring a safe and secure learning environment for all students across the country."
READ ALSO: Pastor, 3 others sentenced to 7 days imprisonment
Source: 3News.com|Ghana