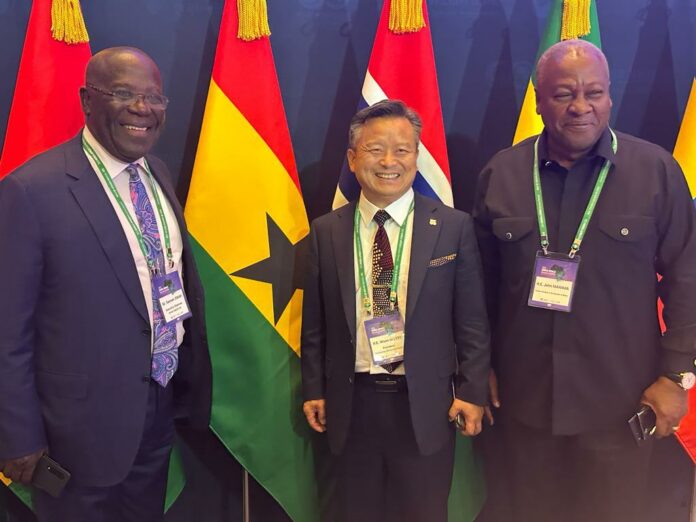 Former President and 2024 flagbearer of the opposition National Democratic Congress (NDC), John Dramani Mahama says African leaders need to "work together in the spirit of cooperation, against political instability and dissident activities that may threaten our continent by strengthening security cooperation among member states."
Mr. Mahama says the feat would be attained through "addressing issues of corruption, human rights violation, unemployment, inequalities and general absence of rule of law that often serve as impetus for the enablers of instability."
In a statement issued Thursday, May 25, at the Korea-Africa Foundation to commemorate the 2023 African Union Day in Seoul, the NDC flagbearer said hope "Africa is where hope resides."
READ ALSO: Sammy Gyamfi dares presidency on another property of Akufo-Addo around which galamsey is allegedly ongoing at Kyebi
"I have been participating in a number of activities put together by the Korea-Africa Foundation to commemorate the 2023 Africa Day here in Seoul, and it is clearer more than ever that Africa is where hope resides.
"On the occasion of this year's commemoration, I celebrate the unity, strength, and diversity of the African continent.
"Ours is a resource-rich and dynamic continent with a growing and vibrant youth population; full of endless potential and promise — a place with great prospects on the horizon for building the Africa we all want."
Commending the works of the many others who strived to continue what the pioneers of Pan Africanism bequeathed the continent, he listed his Visa-On-Arrival policy for fellow African nationals as part of the contributions towards "building the Africa we want" whilst extolling those who established the foundation of African unity.
READ ALSO: I'm an Nkrumaist' – John Mahama reveals
"Today provides another opportunity to honour visionaries like Dr. Kwame Nkrumah, Emperor Haile Sellasie and Gamal Abdul Nasser who laid the foundation for our continental unity and promoted the ideals of pan-Africanism," portions of the statement read.
He highlighted on the need to make the AfCFTA a success by ensuring free movement within the region with lessons from the Coronavirus pandemic and bemoaned intra-African trade that has remained the lowest among all the continents.
"We must work towards improving healthcare delivery, promoting disease prevention mechanisms and ensuring access to quality healthcare for our people. This will enable us to be better prepared to face health related challenges as we head into the future," he stated, adding that women and the youth be empowered to eradicate poverty and create opportunities for all.
READ ALSO: NPP wants John Mahama, Asiedu Nketiah arrested over treasonable comments