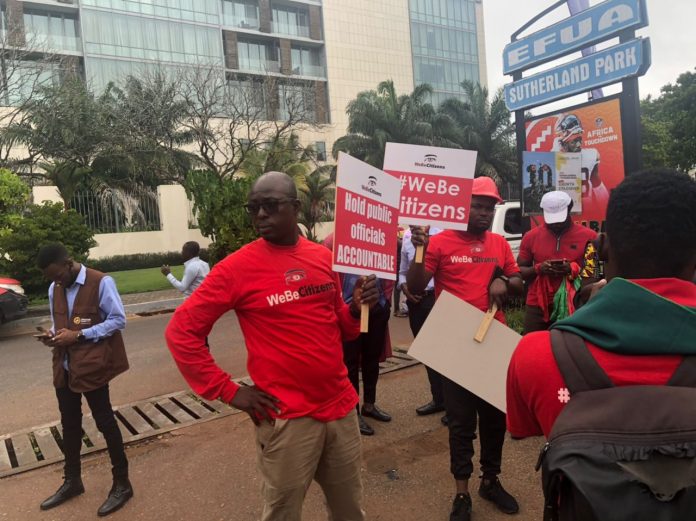 Executive Director of the Alliance for Social Equity and Public Accountability (ASEPA), Mensah Thompson, has questioned the legitimacy of the picketing at the Auditor General's office by the Citizen's Coalition.
Some 35 Civil Society Organisations including OccupyGhana, GII, IMANI-Ghana, CDD-Ghana together with 11 individuals featuring Martin Kpebu, Prof. Godfred Bokpin, Prof. Kwame Karikari among others stormed the office of the Auditor General Monday, September 5, 2022 for his refusal to exercise his powers of disallowing and surcharging persons who allow state funds to go down the drain.
In a letter delivered to the police and signed by the Director of Advocacy and Public Engagement for the CDD-Ghana, Dr. Emmanuel Kojo Pumpuni Asante, the Coalition noted their action is to put the Auditor General on his wheels to pit to force, that part of the 1992 Constitution he has contravened.
But in a statement sighted by Onuaonline same day, the ASEPA's Mensah Thompson believes the action is a right call but has been directed to the wrong quarters.
He says such picketing should be geared towards the doorstep of the Attorney General whom the.Constitution grants that power to put such persons on trial.
READ ALSO: Citizen's Coalition to picket Auditor General's premises today for violation of the 1992 Constitution
Read his full statement below:
Mensah Thompson of ASEPA writes….
I hear some CSOs are picketing at the premises of the Auditor General's department today, for what exactly i do not know…
The AG issued a report, cites persons and agencies for financial irregularities and people say they are picketing against the Auditor General for lack of action against persons who are at the center of the yearly financial irregularities when they know perfectly well that the State has placed the powers to initiate criminal prosecutions in the hands of the Attorney General, who have leased some of such powers to OSP,CID and EOCO to also initiate criminal actions with clearance from him.
The Auditor Service Act establishing the Auditor General's department spells out clearly the guidelines and scope of their work; audit how government money is spent year on year and make recommendations such as surcharge, refund etc
The implementation of the recommendations of the audit report is not the responsibility of the Auditor General and so those picketing at the Auditor General's Department are better off channeling that protest to the Attorney General's Department.
It is the inactions of the Attorney General, coupled with the redundancy of the Public Accounts Committee of Parliament that has seen financial irregularities with MMDAs move from 2.5billion in 2017 to 12.5billion in 2020 to 17.4billion in 2021, this has nothing to do the with the Auditor General, ASEPA is therefore not associated with today's protests at the Auditor General's Department!!