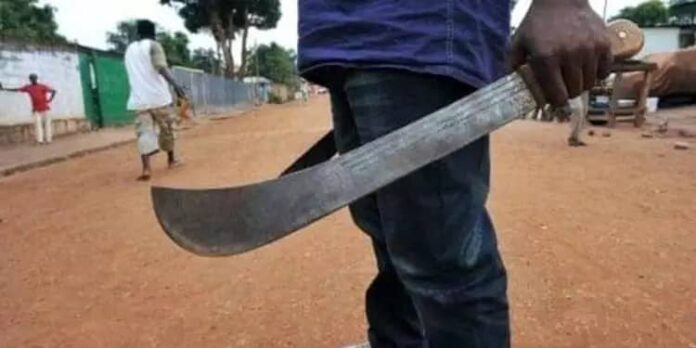 A man believed to be in his late forties has allegedly beheaded his landlord at Yaw Anane, a farming community in the Bia West district of the Western North region on Monday, August 21, 2023.
Confirming the incident to Onua News' Emmanuel Sowah, the assemblyman for Nafana Electoral area, Augustine Bediako, said the suspect, Yaw Wotoro, is a caretaker of the victim's farm.
According to the assemblyman, the owner of the farm, Kwasi Antoh, 60, visited his farm and was not happy about the state of the farm. He said the weeds on the farm were not cleared, no pruning and other farm cultural practices had not been done and complained bitterly.
READ ALSO: C/R: Man allegedly stones girlfriend to death after seeing another man's picture on her phone
The expressions of the landlord didn't go well with the farm keeper, aside from allegations that, the landlord has been 'chasing' a 19-year-old daughter of the farm keeper in the village.
Out of frustration, Yaw Wotoro, the suspect, took a cutlass and slashed the neck of his landlord at the back of his house and ran away.
However, residents of the community made a thorough search and investigation and later identified the suspect, and was apprehended.
Mr. Bediako, the assemblyman, advised the residents to report to them or the police of any life-threatening incident to be able to avert it. The suspect has since been in police custody at Akatiso, assisting in investigation.
READ ALSO: Asawase youth demand independent probe into murder of Yussif Salawudeen