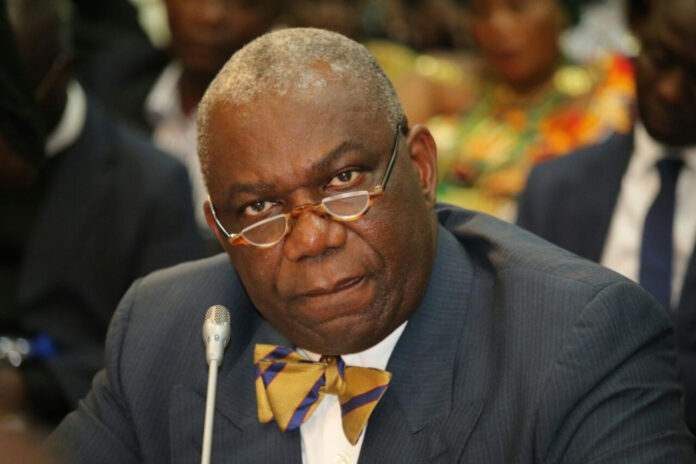 Boakye Kyeremateng Agyarko, a presidential aspirant of the New Patriotic Party (NPP), has pulled out of the run-off poll scheduled for Saturday, September 2, 2023, to decide the fifth aspirant.
Mr. Agyarko has described the modus adopted by the party leadership for the run-off as unconstitutional.
The NPP leadership had announced that its National Council will constitute the delegates that will decide between Mr. Agyarko and Francis Adai-Nimoh who both placed fifth at the initial election held on Saturday, August 26, 2023.
The special delegates' conference was organised to trim the 10 aspirants for the NPP's flagbearer to five before an expanded college of delegates would decide on November 4 for who becomes the flagbearer. But after the exercise, four candidates clearly stood out with the two aspirants having a tie at the fifth position.
Chairman of the NPP, Stephen Ayesu Ntim, announced that the two would be separated with a run-off on September 2, unless one pulls out or they come to a compromise to settle on one.
In his statement, Mr. Boakye Agyarko stated that the shortlisting of a few individuals in the National Council to represent the whooping 955 who decided the first round is an illegality.
"It is totally unacceptable to me that such an unconstitutional act can be perpetuated on the altar of expediency. Am I to surmise that the party did not know the cost implication? It is unconscionable that the rules of the game will be changed midstream.
"Rules and regulations that are flip-flopped in such a manner is only detrimental to fair play and justice. It is a clear violation of the party's constitution and the guidelines for the Special Electoral College. It is an unconstitutional act which I cannot allow myself to be associated with," he said in parts of his statement.
Wishing the party well, the former Minister of Energy said his conscience will not judge him purely, if he partakes in an exercise fraught with truncated agreed processes.
"I, therefore, respectfully, serve this notice to refrain from such a contest. As always, I wish the party well."
READ ALSO: NPP super delegates conference: Ben Ephson predicts two aspirants among Adai-Nimoh, Joe Ghartey, Boakye Agyarko to join top 3 for November 4 showdown