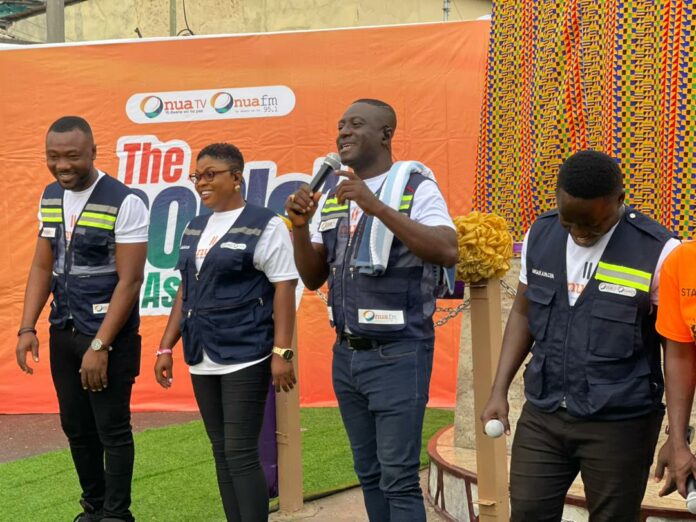 Preceding Onua TV's coverage of the 2023 Fetu Afahye is the People's Assembly happening today, Thursday, August 31, 2023, at the London Bridge in Cape Coast.
The show will host leaders in the Cape Coast metropolis including the traditional authority and the general public to dialogue on how to foster development.
The assembly will have the opportunity to drum home what they have been doing as well as developments they have in progress, and also take concerns from the people.
Over the years, the People's Assembly has provided the platform for residents to engage authorities in a more direct way, which has also given authorities the opportunity to hear directly from the public, issues bothering them concerning development, economic, social, religious and other spheres.
Prior to today's exercise which would be continued tomorrow, the Onua brands paid a courtesy call on the Oguaa Traditional Council on Wednesday, August 30.
Leading the team at the Oguaamanhene's palace, Captain Smart, who is also host of the morning show, Maakye, indicated that, the team was enthused to be part of this year's festival, and promised a holistic coverage of the event after presenting some items to the Council.
Presenting the items, Captain Smart espoused the importance of paying homage to the traditional authority before the commencement of the team's purpose for the festival.
For his part, Chairman of the festival planning committee who received the items on behalf of the Council, Perry Mensah, thanked the team and urged them to continue the good works it is doing for Ghana.
"We expect that next year by this time, you'll bring in multiples, what you've brought today.
We also encourage you to keep up with everything you're doing for this nation because that is what will bring is peace and progress," he stated.
Among the items presented included boxes of standard mineral water, packs of Choice energy non-alcoholic herbal drink,.pieces of cloth from Akosombo Textile Limited (ATL) and an undisclosed amount of money.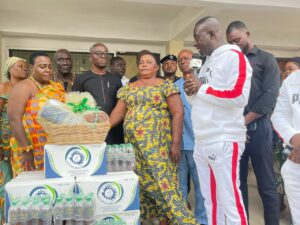 READ ALSO: 2023 Fetu Afahye: Oguaamanhen warns against LGBTQ + activities during celebration