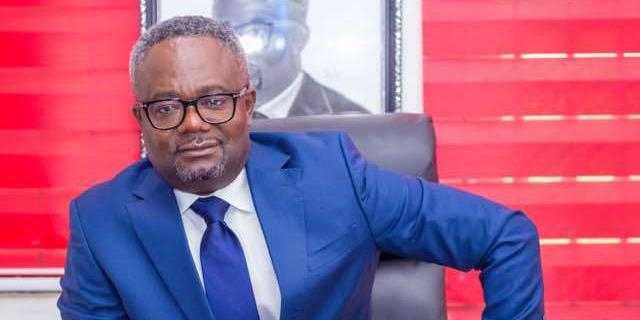 Founder of the Liberal Party of Ghana (LPG) Perceval Kofi Akpaloo has laughed off the assertion that his party could be part of the 17 political parties the Electoral Commission has threatened to delist.
According to Mr. Akpaloo, the LPG is law abiding and obeys all rules and regulations governing the political parties in Ghana.
He says but for the New Patriotic Party and the National Democratic Congress, the LPG is the most serious political party in Ghana.
"The LPG cannot be delisted. We abide by the rules and the whole Ghana the LPG comes next after the NPP and NDC. The others are asleep," he said when asked about the delisting being hinted by the Electoral Commission.
The EC in a release listed 17 political parties who could be delisted as registered political parties in the country for flouting the Political Parties Act, 2000 (Act 574) which requires all political parties to have national and regional offices.
Read the full release from the EC below:
THE POLITICAL PARTIES ACT OF 2000, ACT 574- COMPLIANCE BY POLITICAL PARTIES
In a bid to ensure compliance with Section 22 (1) of the Political Parties Act, 2000 (Act 574), the Electoral Commission undertook a nationwide exercise to inspect the offices of all registered political parties in Ghana. This exercise was conducted from the 16th of May to the 9th of June, 2022.
Following the nationwide inspection, it came to light that the under-listed Political Parties have no offices at the National and Regional levels as required by Section 15 (1) (Act 574).
The Commission intends to invoke Section 15 (3) (c) of the Political Parties Act of 2000, Act 574, which mandates it to cancel the registration of Political Parties which do not have offices at the National and Regional levels.
In this vein, the following Political Parties are by this notice requested to show cause in writing to the Electoral Commission why their registration should not be cancelled:
Democratic People's Party (DPP)
United Front Party (UFP)
United Development System
Party (UDSP)
Every Ghanaian Living
Everywhere (EGLE)
Yes People's Party (YPP)
United Ghana Movement (UGM)
Democratic Freedom Party (DFP)
New Vision Party (NVP)
Ghana Democratic Republican
Party (GDRP)
Ghana National Party (GNP)
Power Unity Party (PUP)
United Progressive Party (UPP)
Reform Patriotic Democrats
(RPD)
People's Action Party (PAP)
United Renaissance Party (URP)
National Reform Party (NRP)
United Love Party (ULP)
The responses should reach the Commission not later than Thursday, 20th October, 2022
Note: This Public Notice has become necessary due to the failure of the listed Political Parties to furnish the Electoral Commission with information on their locations.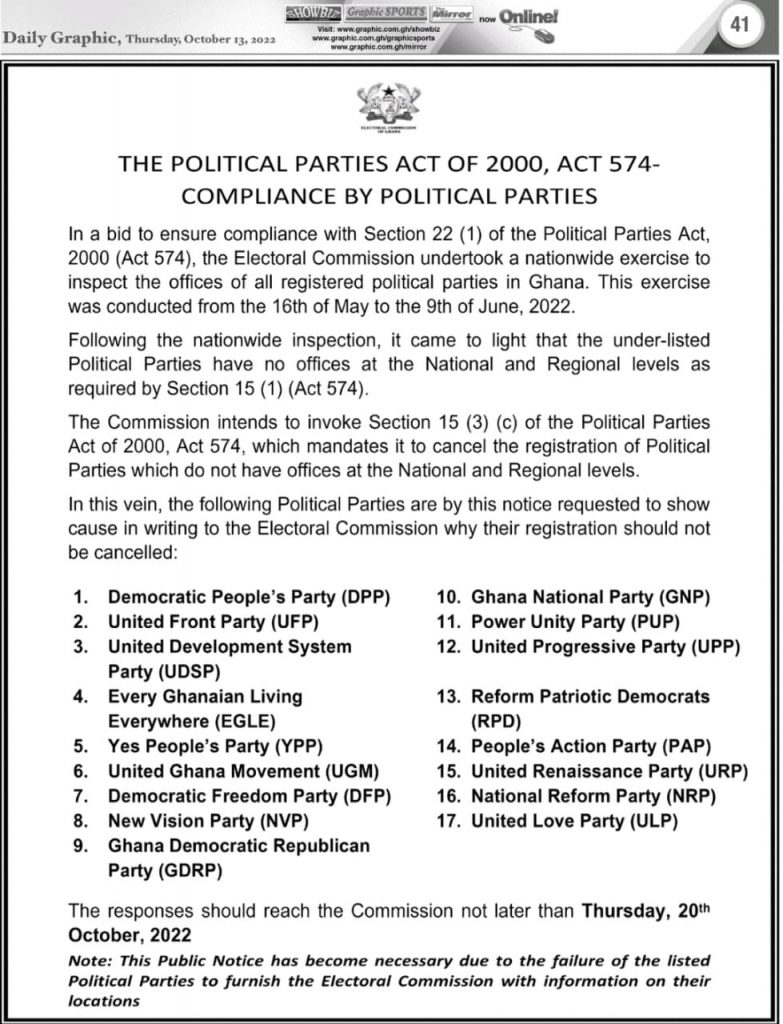 Source: Onuaonline.com|Ghana