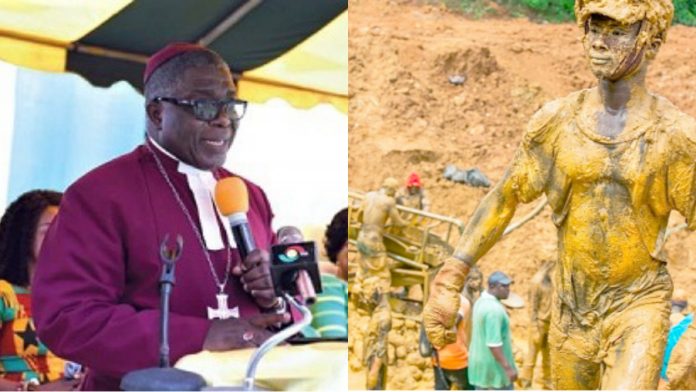 First Deputy Speaker of Parliament, Joseph Osei-Owusu, at the initial stage of the government's commitment in the fight against illegal mining activities pushed for a shoot to kill approach.
The Ashanti Bekwai lawmaker advocating for severe sanctions to be meted out to people engaged in the menace insisted the galamseyers should not be treated with kid gloves.
He insisted that if he had his own way, he would pass a legislation to exact this proposal since he believes it is the major solution to end the menace and as well deter recalcitrant illegal miners.
Section of the public recently seemed to have subscribed to the shoot to kill approach after several policies by the government have failed to combat illegal mining activities.
On the Monday, October 17 edition of Onua TV/FM's morning show, host Captain Smart asked to be buried alive if he fails to end the menace in 21 days if granted the power to operate shoot to kill.
READ ALSO: 'Bury me alive if I don't end galamsey in 21 days with operation 'shoot to kill' – Captain Smart
Nonetheless, the clergy and faith based organizations think otherwise.
They have relatively challenged the government to put in place rigorous measures in arresting and prosecuting the perpetrators.
Presiding bishop of the Methodist Church Ghana, Most. Rev. Dr. Paul Kwabena Boafo questions in a press briefing in Accra Monday, October 17, 2022 whittled down on the shoot to kill approach.
He has explained that it is not biblical, likewise it would not have the effect Ghana needs to end galamsey.
"Shoot to kill, would the churches support it? ; from my personal point of view I will say no to shoot to kill but to arrest and prosecute that is the best way," he said.
"Shoot to kill is not a good idea, it will not have the effect that we need to have on our country; we need our people and we need our citizens," he reiterated.
The former Chairman of the Christian Council of Ghana noted that the illegal miners are determined to make their money at every cost notwithstanding the damage they are doing to the environment.
He explained that a visit by the clergy to galamsey sites in the Eastern Region brought to bare the level of destruction at farmlands, forestry reserves and water bodies by the pigheaded miners.
He, has, however, challenged Metropolitan, Municipal, and District Chief Executives (MMDCEs) to take bold steps to stop the menace as well as ensuring the affected areas are reclaimed to safeguard the environment.
By Maxwell Otoo|OnuaFM|Onuaonline.com