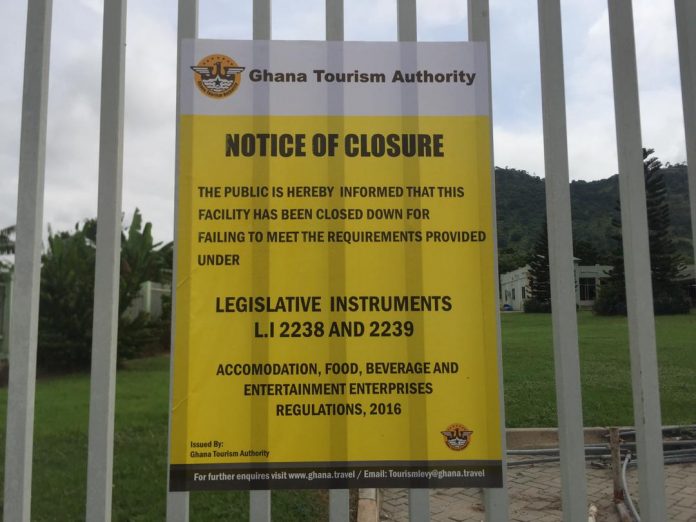 The Ghana Tourism Authority in the Eastern Region have closed down 12 hospitality facilities in two municipalities for flouting tourism regulations .
A total of 25 hospitality facilities are expected to be closed down across the Eastern Region in the next nine days.
The Eastern Regional Director of the Ghana Tourism Authority Frederick Adjei-Rudolf, says the state loses revenue whiles hospitality facilities provide substandard services that derails gains made in the tourism and hospitality facilities hence the exercise.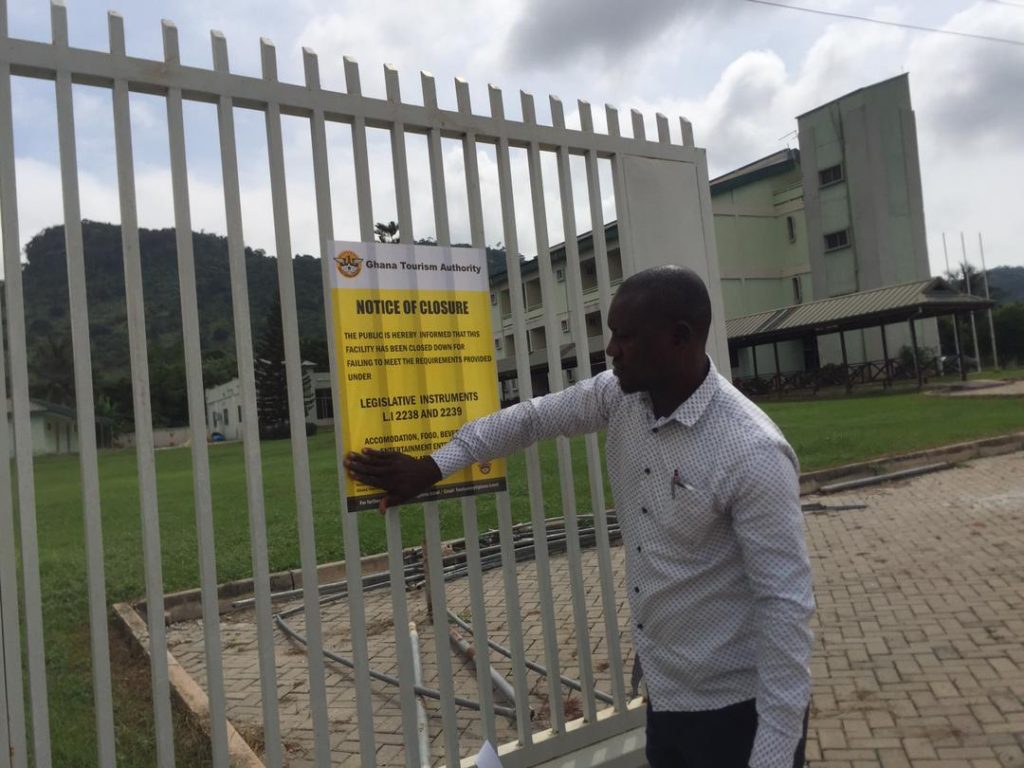 "If you recall sometime in April we embarked on a similar exercise at Kwahu. There are some facilities operating illegally which means that they don't have a valid license to operate and that is against the law. We want to weed out those operating on the tourism space. In the last five years we have done so much to project the interest of the country, so if these facilities are operating without the requisite license, we are losing revenue and most importantly they would be providing substandard services which will kind of derail the kind of hospitality and tourism industry we are building. It is also not right for some to do the right things whiles others fail to do so," he noted.
He continued that, "a number of the hospitality facilities closed down have not registered to operate with a valid license after several caution, others have failed to complete the processes to be licensed, many owe annual operational license fees."
Among the ten hospitality facilities are four private hostel facilities providing accommodation for students of the Koforidua Technical University. Three canteens and five hotel facilities.
With the enforcement notice from the GTA, Guest Houses, hotels and other facilities cannot operate until due diligence is done in the next 24 hours.
Some of the operators of the hospitality facilities conceded flouting the laws whilst others gave excuses
"I am ready to pay the fine, when they came here the other time I told them I don't have enough money, I have nothing more to say,"an operator said.
Mr. Adjei-Rudolf added "enforcing closure is not a pleasant exercise. We would rather not have a situation to be engaged in closures, but recalcitrant operators have left us with no choice but to do this in accordance to laid down laws to protect the industry. This duty, we shall perform without fear or favour."
Students of the Koforidua Technical University in the private hostels fear a total closure of their hostel facilities will put a challenge on them.
"I pray this is resolved well, else we may have to go search for new hostel, we have paid already"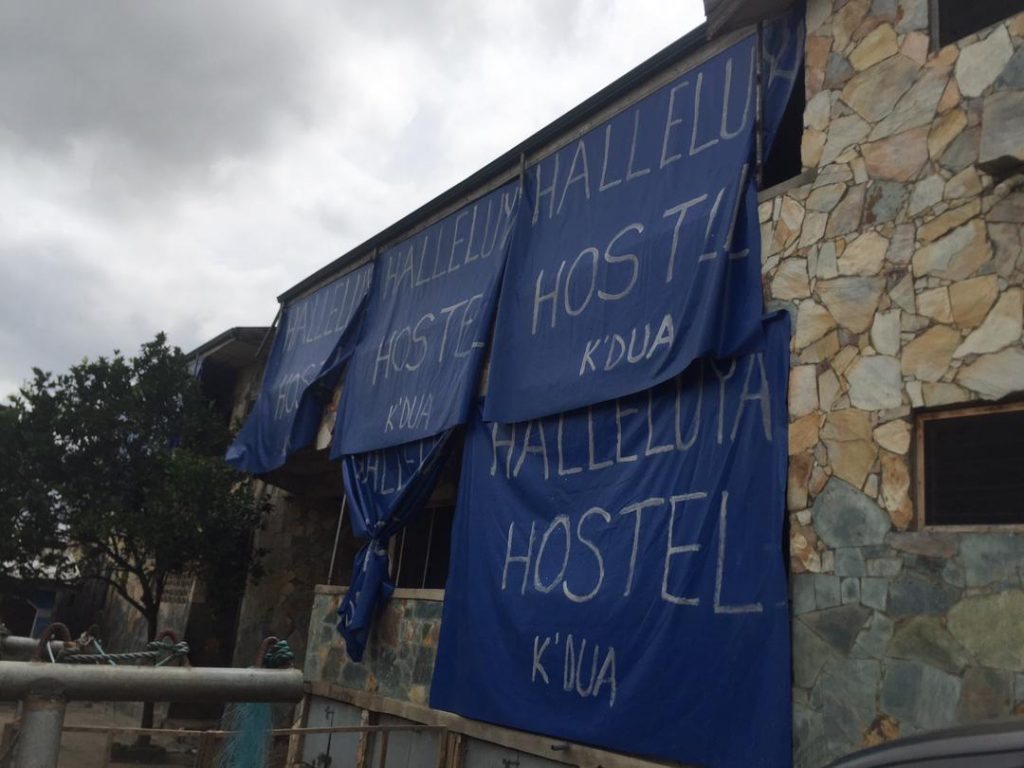 The hostels have 24 hours to report to the GTA office for discussions. The GTA Director explained.
"For the hotels, because they have students in the hostel for now, when they come and pay the administrative fee, we will sit down with the owners and agree realistically when they can submit that document. If it's okay with us, we will ask them to sign another undertaking and of that undertaking expires, we will have to evacuate all the students."
Tourist and patrons have been asked to patronize licensed facilities for their safety and health consciousness.
By Yvonne Neequaye|Onuaonline.com|Ghana