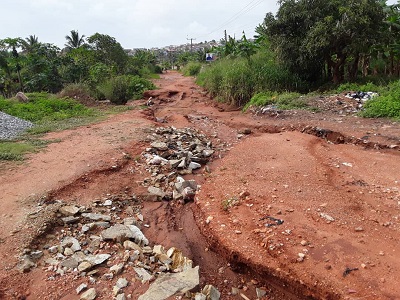 Residents of Kwabre East Municipality of the Ashanti Region have expressed their inability to have sex with their partners due to the poor nature of their roads.
Some drivers in the area, aside from the pains they derive from the deplorable roads say they have to service their vehicles about five times in a week.
The residents, speaking to Asona Dehyie Kwarteng, said their marriages are collapsing, and verbalised their disappointment in the government for the usual promise and fail to residents of the area.
"Many of us the drivers are childless because we can't have sex with our wives. By the time we reach home. We experience bodily pains"
"There is no way you can sleep with your wife if you decide to work full time"
"When it rains, we can't even make a way here"
"Our DCE stays just at the back here. He uses our road daily so we don't know why he hasn't fixed it"
"No government has ever fixed our road for us. Look at a road we transport pregnant women on"
"We don't have an MP, no MCE because nobody is aware of our problems"
"Nana Addo has disappointed us looking at how we helped him. We didn't know he was that wicked. The roads from Kenyasi to Antoa then Achiase are all bad," seven residents, including drivers said.
Meanwhile, a former Municipal Chief Executive of Kwabre East and a member of the ruling New Patriotic Party, Nana Osei Assibey Bonsu is troubled with the possibility of the residents voting out the NPP in the 2024 polls.
He has called on the authorities to help avert the challenge with the expedition it requires.
"The road from Asonomaso Nkwanta through Adawomaso and Bonwire to Juaben is a very important road. A lot of heavy trucks ply it from the North at night.
"The roads are many so if we can't do all, why don't we select some and give to contract for the people to know? But if we abandon everything and leave the people in the dark, they'll be angry with us.
"We've been in power for first term, we are in our second term. We promised doing it yet nothing has been done. How then can you go and ask the person to give you a third term? We are all praying we don't go to opposition but if we don't fix their problems for them, it will affect us greatly," he intimated.
By: Felix Anim-Appau|Onuaonline.com|Ghana