The Tertiary Education Commission (GTEC) has directed the Controller and Accountant General on the instruction of the Education Minister, Dr. Osei Yaw Adutwum, not to pay salaries and allowances to all teachers of the 46 Colleges of Education in the country for the month of August.
"We write at the instance of the Honourable Minister of Education, requesting you NOT to pay monthly salary and allowances for the month of August, 2023 to the Teaching Staff of all 46
Colleges of Education (CETAG)," a statement issued by GTEC Monday, August 21, 2023, indicated.
"However, any arrears before August, 2023 should be validated and paid," portions of the statement indicated.
The directive follows the Association's decision not to return to the classroom after government's plea with them to suspend their strike.
READ ALSO: CETAG refuses to end strike despite calls by NLC to return to the classroom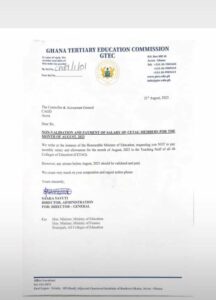 The Colleges of Education Teachers Association of Ghana (CETAG) served notice of their intentions to withdraw services effective August 1, 2023.
Their decision followed the non-compliance of the government to implement the National Labour Commission's (NLC) Arbitral Award Orders and the negotiated conditions of service since May 2, 2023.
In January this year, teachers at the 46 Colleges of Education across the country embarked on an indefinite strike after the Fair Wages and Salaries Commission protracted negotiations for new conditions of service for more than a year.
The industrial action was eventually called off following interventions by the National Labour Commission which subsequently saw the introduction of compulsory arbitral orders for new conditions of service for CETAG.
However, since negotiations between the parties failed to materialize, CETAG embarked on a strike again in August 1 causing the government to withhold their salary for the period in perspective.
READ ALSO: JUSAG threatens indefinite strike over delay in salary adjustment