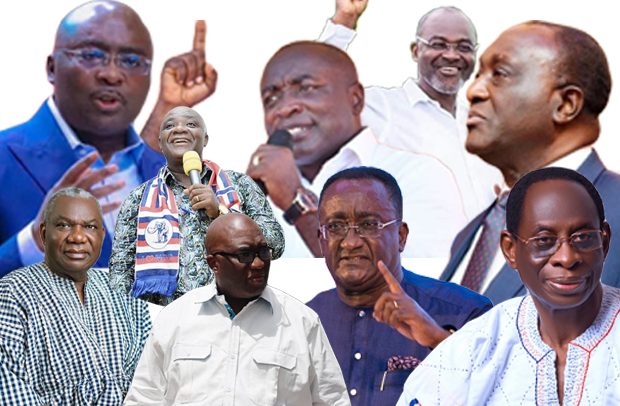 The New Patriotic Party (NPP) Chairman for the Cape Coast North Constituency in the Central region has charged all ten aspirants in the upcoming Special Delegates Conference to support those who would be chosen for the final showdown.
Stephen Kojo Arhin said the number of people contesting for the number one slot in the NPP is too large, but what will make them win the 2024 election is unity after the elections.
The chairman was speaking in an interview with Onua News in Cape Coast ahead of the NPP's special delegates congress on Saturday, August 26, 2023.
"Ten aspirants. To me, it is a challenge because they are too much. We should remember the seventeen aspirants in the year 2007, which led to our defeat," the chairman recalled adding that "they [aspirants] should have been spoken to so that in the interest of the party, about three or four would have contested."
READ ALSO: From 17 thieves to 10 Biblical Lepers; Asiedu Nketia tags NPP presidential aspirants
"This would have reduced the cost involved in the election, but they all want to contest. All ten are in the party, and we shall go and access them on Saturday, but my advice is that if you lose, don't go and sleep. If it happens that way, then it means you came with a motive. You have to join and support the winner to be able to break the 8," the Chairman urged.
Breaking the 8
The Chairman said "the NPP will break the 8 due to the good work because what we [the NPP] went through has never happened before. We went through the same thing in 1983, but we know we shall pass through, but breaking the 8 is not a joke."
"What happened in the 2020 election in Parliament was not good; that is why there has not been a reshuffle in government, so I am urging the NPP aspirants to tell us what they can do to wrestle their various seats that were lost in the 2020 election.
READ ALSO: Presidential aspirant wants Parliament suspended
"Some of them [MPs] go to Parliament because of goodies. They forget the party and those who voted for them as soon as they win," he added.
Cape Coast North orphan
Mr. Kofi Arhin said Cape Coast North is an orphan constituency, and nothing will change his mind about wrestling it from the National Democratic Congress (NDC) in the 2024 election.
He stated "I am after the seat, and nothing can change that. I will see to it that we get someone who can help us win the seat. We shall elect a candidate who can win the 2024 election. We should not campaign for just campaign sake. We need someone who can sacrifice for the party. One who will help the members. One who will come out with good policies."
READ ALSO: NPP presidential primaries: Majority MP confident Bawumia will win polls by 70%
Performance of the NDC MP
Commenting on how the MP from the opposition NDC has performed so far, Mr. Arhin said "the MP is not doing anything for this constituency. Cape Coast North is stagnant. We can't see anything. No development is going on, but because we [NPP] had challenges in 2020, he got it on the silver platter."
By Kweku Antwi-Otoo|OnuaNews|Onuaonline.com