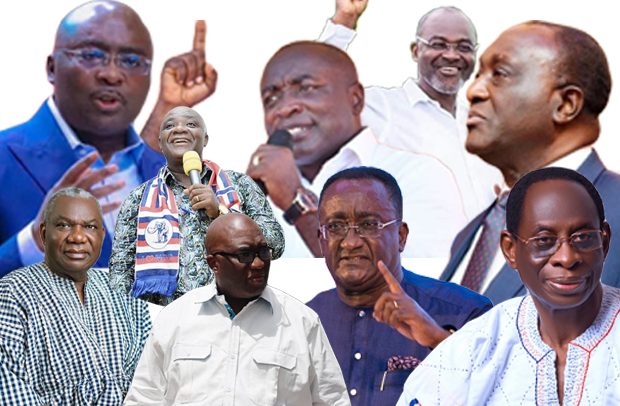 "Then as He entered a certain village, there met Him ten men who were lepers, who stood afar off. And they lifted up their voices and said, "Jesus, Master, have mercy on us!" So when He saw them, He said to them, "Go, show yourselves to the priests." And so it was that as they went, they were cleansed. And one of them, when he saw that he was healed, returned, and with a loud voice glorified God, and fell down on his face at His feet, giving Him thanks. And he was a Samaritan," Luke 17:12-16 of the New King James Bible says.
Sixteen years ago, before the New Patriotic Party (NPP) had their Conference to elect Addo Dankwa Akufo-Addo as their flagbearer, then General Secretary of the NDC, Johnson Asiedu Nketia, described the aspirants as "seventeen (17) thieves ."
READ ALSO: Political scientist downplays Bawumia's incumbency advantage in NPP presidential primary
Currently the Chairman of the National Democratic Congress, Mr. Asiedu Nketia has tagged aspirants of the NPP as the 10 Biblical Lepers who were healed by Jesus Christ.
Speaking with Captain Smart on Maakye Thursday, August 3, 2023, Chairman Asiedu Nketia said his prophecy that the NPP were going to elect the master thief amongst the 17 thieves has been fulfilled after electing Addo Dankwa Akufo-Addo over a decade and a half ago.
General Mosquito, after saying he was severely criticised by many for speaking the truth then said he didn't want to get himself into any trouble this time around, but ended up saying the 10 aspirants are like the 10 Biblical Lepers who were healed by Jesus.
As quoted from the Bible in the text above, Johnson Asiedu Nketia noted the only leper who returned to express gratitude to Jesus would be the one to be elected as flagbearer in the NPP's upcoming presidential primary.
READ ALSO: Asiedu Nketia wants Adom-Otchere to own up if he is spokesperson for Cecilia Dapaah