Some school going children at Ejisu-Beasease have been supported with educational materials. The intervention is to encourage and improve on their studies.
Hope Over Borders Foundation in collaboration with Institute for Youth Development – Ghana has also provided the St Mary R/C primary and Besease M/A JHS with some computers to aid in practical ICT lessons.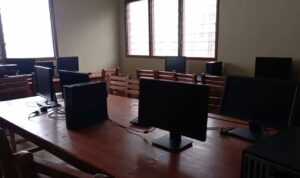 Prior to this intervention, pupils only had to learn ICT in books without practical lessons.
READ ALSO: Asantehene seeks government support for AAMUSTED
"The provision of these computers is timely as it will make ICT studies easier," headmistress of St Mary R/C basic, Akua Bema, stated.
Books, bags, footwear, pens, and pencils were presented to about 400 pupils in the school.
Founder of Hope Over Borders, Kiera Kyei-Mensah, said the intervention is part of her plan to invest in the education of the Ghanaian child.
"When I came to Ghana in 2022, I visited some schools and realised some of them do not have learning materials. I decided I would do my best to help them. So when I went back to the States, I petitioned those I know to donate whatever they can and eventually mobilised to bring the items to them. I'm looking forward to continue this," she noted.
READ ALSO: GNAT gives GES, Education Ministry ultimatum over delay in laptops supply
Some of the beneficiary pupils thanked the donors and pledged to make good use of learning materials.
The computers and other learning materials are expected to improve on teaching and learning.
The Foundation also donated 8 hospital beds and 6 baby cots for the mother and child unit of Maddona Clinic at Besease.
By Ibrahim Abubakar|AkomaFM|Onuaonline.com