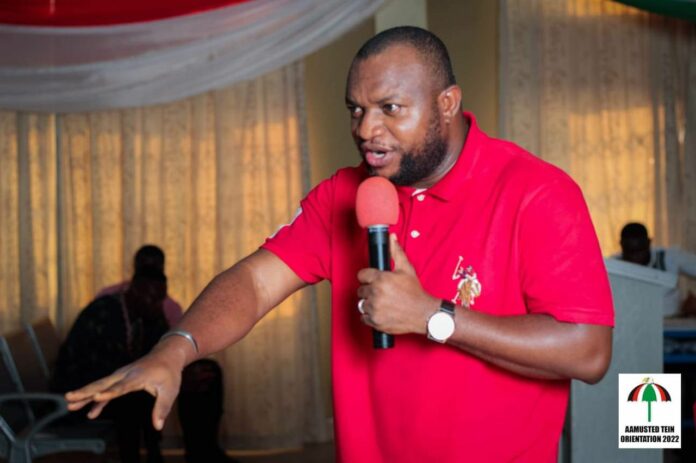 A member of the national communications team for the National Democratic Congress (NDC), Ernest Yaw Brogya Genfi, is asking the Finance Minister, Ken Ofori-Atta to scrap the 10% tax on sports betting and lottery winnings.
According to Mr. Genfi, government has over the years contributed nothing to curb the teeming unemployment in the country but has chosen the lazy man's approach of taxing the little earnings the youth get from gaming.
Speaking with Yaa Titi Okrah on Onua FM/TV's maiden edition of 'Pae Mu Ka' on Monday, August 14, 2023, Brogya Genfi alleged that there is more money stashed in the homes of government appointees which should be the focus of government rather than taxing the sweat of the unemployed youth who are struggling to make ends meet.
READ ALSO: Pastor shuts down church after winning 100million in sports betting
"I want you to tell Ken Ofori-Atta that the introduction of 10% betting tax is not good. There is no employment in the country so the government called for the establishment of these betting companies in Ghana so betting is not against any law in Ghana.
"From 2018, there has not been any recruitment into the police force. Young boys are suffering, one gets to bet on several games before at least winning one game.  Then when finally, you win, government takes 10% out of your money.
"NPP's former Youth Organiser is now in charge of National Lotteries, you allow such to happen, you allow government to tax lotteries and bet. We are pleading with government to scrap off this tax. This is too small for government. There are ministers and state officials with more money under their beds, they should bring them out.
READ ALSO: New tax bills were more important than my life – Nanton MP
"Just when you have won about GHC1,000 bet, then this government which never helped with anything, no internet, you decide to take 10% out of the money. So, I am pleading with you (Yaa Titi), to tell Captain Smart to talk to his friend, Ken Ofori-Atta to scrap that tax off," he pleaded.
The Ghana Revenue Authority (GRA) has announced that it will begin implementing a 10% withholding tax on all gross gaming winnings from August 15, 2023.
The GRA explained that the withholding tax will be charged on profits accrued after each win and that the existing 15% Value Added Tax (VAT) rate on each stake will no longer be charged.
The GRA said that the new policy is in line with an amendment to the Income Tax Act 2023 (No.2), Act 1094.
READ ALSO: It is better you accept the LGBTQ+ than to think of taxing our bet winnings – Gov't told