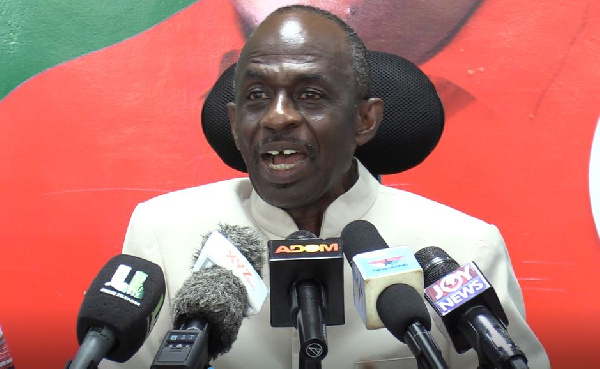 General Secretary of the National Democratic Congress (NDC), Johnson Asiedu Nketia, has cautioned against the ethnicity and religion that is gaining grounds in the runup to the 2024 general elections. 
General Mosquito, as he is known in the political circles, has said leadership is about competence and not one's background or religiousness.
At a Town Hall meeting during John Mahama's 'Building Ghana Tour' in the Bono region Saturday, November 18, 2023, Mr. Asiedu Nketia said what matters most is what a President uses Ghanaians taxes for, and not how he worships God.
"We need a president who will work with our taxes for us and will heed to our advice when given," he outlined.
He explained to the youth the essence of surrendering their sovereignty to someone they can trust with their issues, which is the very essence of governance.
"We want a president we can trust. You're telling us your needs because you believe we can do them when we assume power. Mahama is a truthful man that's why you heeded to our call and to also tell us your issues.
"It's not about his religious faith but who will lead the state. What would he do with our taxes after collecting them? That's what's important. However he serves God is not relevant," he explained.
Citing his personal example to the gathering, he said competence is what won him his national chairman contest and not his background because if ethnicity was anything to go by, he wouldn't have had the support he got to win the slot.
"I won my national chairmanship position because of my competence not where I hail from because we are one of the fewest people in this country with regards to my roots and language.
"It is the same way I want us to avoid religion and ethnicity in the presidential elections. Vote for the competent person so he can help the nation," he stated.
READ ALSOMy 24-hour economy proposal will not be compulsory – Mahama