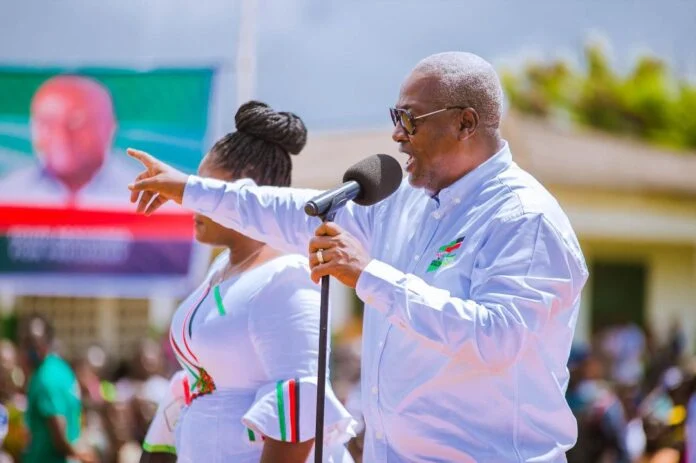 John Dramani Mahama has responded the Member of Parliament for Abetifi, Bryan Acheampong, for some comments he made which many have described as 'inciteful'. 
The Minister of Food and Agriculture at a unity walk of the NPP at Kwahu during the Easter festivities indicated the NPP was never going to hand power to the NDC.
The MP had assured party faithful that they will unleash in equal measure, any form of violence to combat the NDC should they attempt anything unusual at the polls.
READ ALSO: Tamale: NDC supporters mass up in High Court over warrant to 'arrest' Savelugu MP
"If the NDC thinks of using threats, stupidity, brute force to do the 2024 [elections], we'll show them that we have the men.
"That this NPP party which is in power, to be on a platform to hand over power to the NDC, it will never happen, it will never happen, it will never happen!
"We'll adopt any means to ensure the NPP retains power in the 2024 elections," he said in Twi in a charged mood to an equally charged party supporters.
READ ALSO: Reform your image from violence – NPP advises new leadership of NDC
But speaking on day one of his three-day campaign tour of the Eastern region, flagbearer hopeful of the opposition National Democratic Congress, John Dramani Mahama asked party supporters not to be perturbed by the utterances of the NPP since it is God that chooses a leader.
According to him, God has revealed to him that power will revert to the NDC after the December 7 polls and there is nothing the ruling government,  despite their threats, can do to alter the will of God and the people.
"It is God who chooses a leader and when He does, no human interference can thwart it. So don't worry your minds on the utterances of some people.
READ ALSO: [PHOTOS] Prabon deplorable road worsens with onset of rains
"I go to church, I have faith, I've been praying and God has been speaking to me. When I go on my knees, He says it is time for the NDC. He has handed over power to us and when He does that, no interference of man can disrupt it.
"So we should keep praying and trust Ghanaians that whatever the Lord has purposed shall become a reality," he told a gathering of the NDC in Twi Tuesday, April 11, 2023.
By Felix Anim-Appau|Onuaonline.com