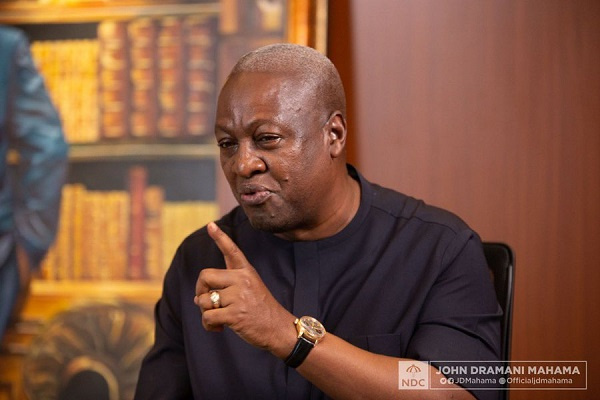 Former President John Dramani Mahama has indicated the determining factor of the 2024 polls is not going to be experiment but rather experience.
The 2024 flagbearer hopeful of the NDC says the level with which the ruling New Patriotic Party has subjected the nation into shambles cannot be averted with experiment.
Speaking at a campaign tour of the Eastern region Tuesday, April 11, 2023, John Mahama said the National Democratic Congress will not make promises they cannot deliver.
READ ALSO: Kumchacha questions logic behind Akufo-Addo's 'support' for LGBTQ+ and quest to build God a cathedral
His experience, he says, is the surest bet to turn things around for the country.
He was speaking to delalegates at the commencement of his three-day tour of the Eastern region.
"I've said that it's not about experiment. I'm not going to promise One District One Factory, One Village One Dam. With the rate at which the state is in shambles, it's not about experiment but experience. And by God's grace we have the experience. We didn't buy it in store, we didn't learn it in school, it is God who gave us the opportunity to gather the experience," he stated.
READ ALSO: Bawa Mogtari calls out NPP on social intervention claims
The former President also underscored the need for the grassroots to work harder to ensure victory is assured latest by midday after close of polls December 7, 2024.
He said the party, after the primaries will commence training of agents and party executives for them to be fully abreast with the task ahead as the time approaches to make their journey to victory a smooth one.
"So we should work hard because defeat will depend on the hardwork we will fail to do at the polling stations.
"After our primaries we are going to train our party agents with the executives so that you'll know and understand the kind of work we have given them to do and we know that by 12 am to 1 am on 7th December, we would have emerged victorious," he noted.
READ ALSO: FULL TEXT: NDC's True State of the Nation Address
By Felix Anim-Appau|Onuaonline.com