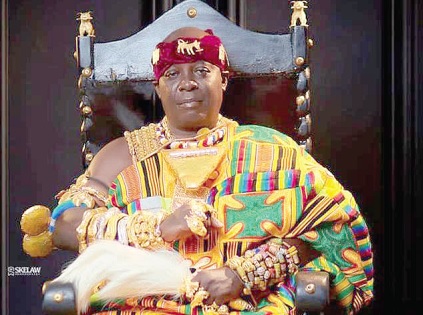 An interlocutory injunction has been granted by the Bekwai Circuit Court to stop the construction of the Essumaja Palace wall which nearly sparked palace war in early 2023.
The construction of a wall which begun in December 2022, was to fortify the Essumaja palace upon the ascension of Nana Okyere Kusi Ntrama.
However, some members of the Aduana family whose family house is cited close to the palace complained that, the election of the wall has blocked entrance to the house.
In February, tension escalated, after some unknown persons collapsed the wall, especially the side which blocked the main entrance to the Aduana family house.
READ ALSO: High Court throws out Kusi Boateng's case against Ablakwa on double identity, National Cathedral scandals
Swift police intervention averted what could have resulted in a civil conflict.
The Aduana family sought a relief from the court to restrain the chief of Essumaja from continuing with the project.
The Bekwai Circuit Court, after considering pleadings and the affidavit in evidence filed by both the plaintiff and defendant appointed a court expert to draw a composite plan in accordance with section 114 of the Evidence Act, 1975 NRCD 323 and directed parties to file their survey instructions. Both parties complied with the order of the court by filing their respective survey instructions.
Upon consideration of the totality of the evidence on record, the presiding judge Jacqueline Ewusi-Sekyi granted an application for injunction restraining the Defendant/Respondent from continuing with the construction of the wall which the Plaintiff/Applicant says has encroached unto his family land.
READ ALSO: Birim South: Chiefs scorn MP over neglect of constituency