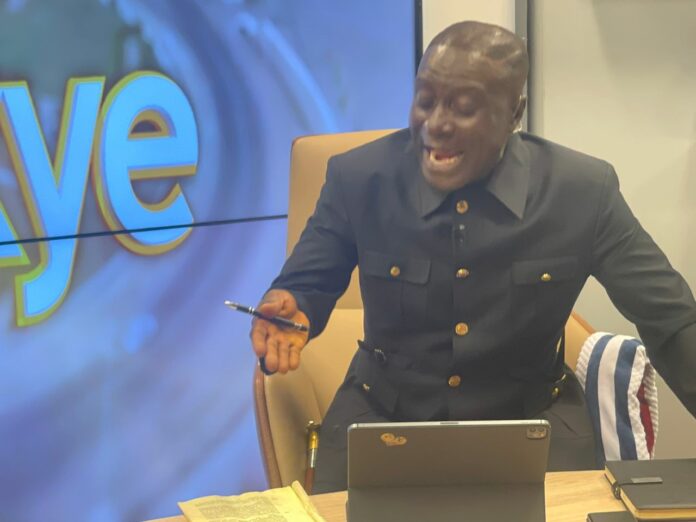 Onua Maakye host, Blessed Godsbrain Smart, has opined the Akufo-Addo government will continue to suffer because "the wisemen in the NPP are on relegation."
According to him, the supossed party faithful tagged 'Kufuor boys' are all quiet, the reason the government is performing poorly.
He said the wise men are the 'technical department' of the government and should not be relegated to the backdoor.
His comments stem from the 'poor' performance of the New Patriotic Party in the just ended by-election held at Kumawu in the Ashanti region.
READ ALSO: W/R: Police chase gang of robbers for robbing money collection point at gunpoint 
READ ALSO: NDC Primaries: How aspirants bought votes with Knapsack sprayers, gas cylinders, cash and other items
According to Captain Smart, the difference in votes garnered by the late Member of Parliament, Philip Basoah, and that of Yaw Anim who won the recent by-election is only some 304 difference which is a failure on the part of the ruling government.
After having the President himself, his Vice, the Chief of Staff and other rank and file of both the NPP and government in Kumawu, the party according to Captain Smart failed to add the over 1,000 votes they have always been having whenever they win a by-election.
"The technical department of the NPP has broken down. They added just 304 votes to that of Basoah despite the noise and all the NPP gurus storming Kumawu," he said, explaining that the NPP have broken down because of "pride and ego."
The Maakye host further said the "NPP cannot jubilate but they are saying it is because they are going to Assin North."
"Where was Dan Botwe when they were going to Kumawu?" he asked.
READ ALSO: Kumawu by-election: 'The Ghanaian voter is not maturing' – Adam Bonaa