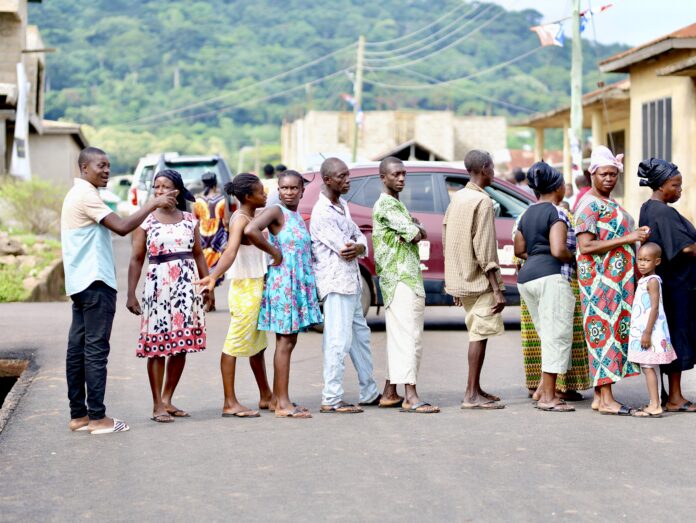 Security and Safety analyst, Dr. Adam Bonaa, has intimated the peaceful by-election in the Kumawu constituency cannot be attributed to the maturity of the Ghanaian voter.
But rather, he says the measures adopted by the police with professionalism resulted in the peaceful exercise.
He says the average Ghanaian abides by the law and would do the right thing knowing the laws would deal with him if what is required of him is not done.
He buttressed his assertion with the traffic light analysis whilst responding to Captain Smart's question on whether the violent-free Kumawu by-election was as a result of the maturity of the Ghanaian voter.
"The Ghanaian voter is not maturing. It is the laws. The average person respects the laws. You can measure this with how most people who drive in the country obey the traffic light. Even if the traffic is not working, they slow down to check first if another vehicle is coming. It used to be the motor riders who didn't obey but now they all wait till the traffic says they should go," he stated.
Dr. Bonaa continued that: "We are rather using the law to make sure that it doesn't matter whoever, you'll be arrested. Ghanaians are believing that the laws in this country are working and when it happens like that, people begin to behave. But if we allow things to deteriorate, things will become worse. So I don't believe the Ghanaian voter is maturing but because everyone knows he will be punished when he flouts the law, they tend to behave."
He touted the Dr. George Akuffo Dampare-led administration for the pragmatic approach adopted to ensure the Kumawu by-election was not characterised by violence.
According to him, previous by-elections like Talensi, Atiwa, Ayawaso West Wuogon and others recorded series of violence because the police administration then acted poorly.
"The previous police administration couldn't put out proper measures at Ayawaso. They failed. It was chaotic. They (police) are supposed to take care of internal security not the National Security who went to Ayawaso. It was a total failure on the part of those who were supposed to take charge. Even though the National Security did that, the police failed their duty of taking charge," he said on Onua TV/FM at a post election analysis.
READ ALSO: EC official grabbed for allegedly voting NPP against elderly woman's NDC wish in Kumawu