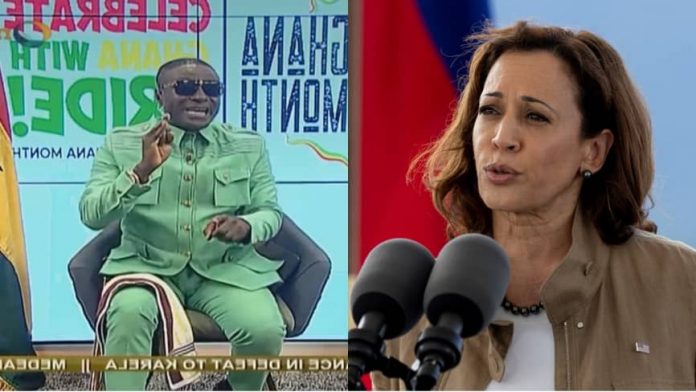 US Vice President Kamala Harris ended her three day visit to Ghana today, Wednesday, March 29, 2023.
Among other reasons for her visit include the United State's drive to push as many African countries as possible to respect the rights of LGBTQ+ people as being speculated, and to also strengthen diplomatic ties between the two countries.
In a response given to a question on her take on Ghana's Anti-Gay Bill, Madam Harris noted "I feel very strongly about the importance of supporting freedom and supporting the fighting for equality among all people, and that all people be treated equally. I will also say that this is an issue that we consider, and I consider to be a human rights issue, and that will not change."
READ ALSO: Kamala Harris' visit to focus on economic growth, investment in Africa
But Captain Smart, host of Maakye on Onua TV/FM speaking Wednesday on his show said America lost its hegemony in Africa as a result of greed and selfishness, and to think of getting to that pedestal again would be a figment of their imagination.
He told the US Vice President to take note of his message and get it delivered to President Biden in order to rewrite their scripts if the purpose of her visit was to reclaim what they've lost.
The vociferous broadcaster demanded from the US government an unqualified apology for the unhealthy relationship that has existed between them and Ghana and the continent as a whole.
"I want you to write this in your diary so that you'll not forget. America had majority of the space in Africa at the time of fighting for space in Africa. However, out of greed and selfishness, you've lost it.
READ ALSO: Meek Mill's video at presidency could be a political diplomacy between Biden, Akufo-Addo – Peter Toobu
"Go back to the drawing table, go tell Biden this, and tell him of the wicked treatment you meted out to Africans including Ghana and come back to apologize to us," he charged.
"Yesterday at the [Cape Coast] castle you nearly shed tears and I want to tell you those are crocodile tears," he added.
By Felix Anim-Appau|Onuaonline.com