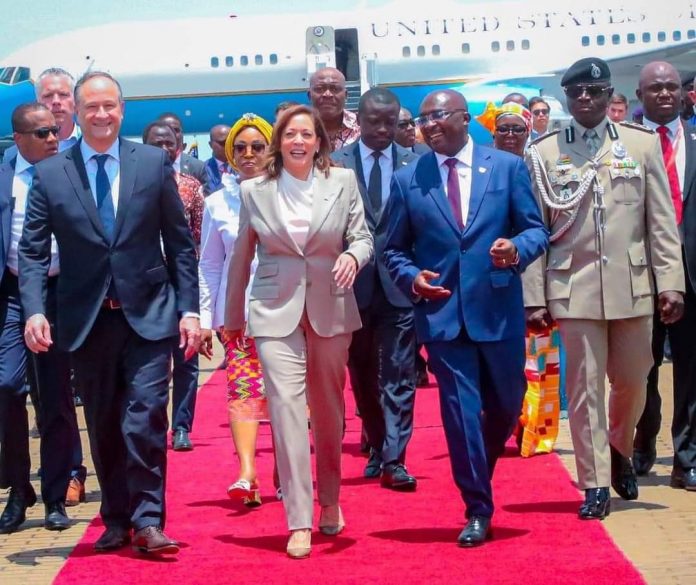 Vice President of the United States of America, Kamala Harris has said her visit to Africa is intended to facilitate economic growth and increase investment on the continent.
Specifically, Harris says she intends to focus on empowering women and children.
"In particular on this trip, I intend to do work that is focused on increasing investments here on the continent and facilitating economic growth and opportunity, specifically, in the areas of economic empowerment of women and girls," she said at her initial speech on her arrival at the Kotoka International Airport.
READ ALSO: Anas reminds Ken Agyapong not to forget his defamation suit ongoing in the US
She underscored Africa's role in global development issues and aims at holding discussions that will foster opportunities in various sectors of the continent.
The US Vice President spoke on how to help increase food security on the continent.
"Empowerment of youth entrepreneurship, digital inclusion, and to support the work that must be done to increase food security, including adaptation to the effects of the climate crisis," she said on Sunday.
She also aims at putting emphasis on earlier discussions had with African leaders on democracy and good governance.
READ ALSO: A President who plagiarises cannot be trusted with the public purse – Akufo-Addo jabbed
She said she was looking forward to meeting the various Presidents to "build on the previous meetings I have had with each of them to strengthen democracy and good governance, promote peace and security, build on long-term economic growth and strengthen our business ties."
"I also look forward during this visit to meet with entrepreneurs and artists and students and farmers to witness firsthand the extraordinary innovation and creativity that is occurring on this continent and inspiring the world," she noted.
The Vice President of the United States, Kamala Harris, arrived in Accra on Sunday, March 26, 2023.
She came with her husband Douglas Emhoff and other top US government officials.
Welcoming her at the Kotoka International Airport was Vice President Mahamudu Bawumia with some drumming and dancing amid cheers from some school children.
READ ALSO: Mahama expresses disappointment in Minority MPs for assenting to Akufo-Addo's ministerial nominees
Madam Harris will be visiting Tanzania and Zambia after Ghana.
Source: Onuaonline.com|Ghana